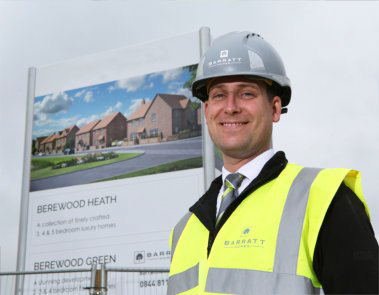 Serving military personnel in Hampshire are being given extra help to get on – or move up – the housing ladder.
Barratt Developments is pledging its support to local armed forces by giving them access to a dedicated buying scheme.
It comes as the five-star house-builder – and people across the country – prepare to celebrate Armed Forces Day (June 30).
Barratt Developments is running an Armed Forces deposit contribution scheme which offers anyone who serves in the Army, Navy or RAF thousands of pounds off the cost of a property. The five-star house-builder gives them a £500 discount for every £25,000 or part thereof on the cost of the property up to a maximum contribution of £5,000.
It can be used at Barratt's developments across the region, including those in Southampton and Portsmouth.
Michelle Storer, sales director at Barratt Developments, said: "As a company we're incredibly grateful to each and every member of the Armed Forces, who often have to undertake work in unimaginably hostile war zones. We're keen to help as many as possible move into a great new home here in Hampshire and we hope this offer provides some help to make it that bit easier."
As well as Barratt/David Wilson Homes' deposit contribution, Armed Forces members can also take advantage of the Forces Help to Buy Scheme which aims to make it easier for servicemen and women who are first-time buyers or those who need to move due to a change in circumstances to purchase a new home with a 5% deposit and 75% mortgage.
Barratt Developments, which celebrates its 60th anniversary this year, is also helping ex-forces start new careers when they leave the military. It is currently celebrating the third birthday of its ex-forces recruitment scheme. The trainee assistant site manager programme for the Armed Forces community scheme takes ex forces personnel and trains them to become assistant site managers over the course of a year.
The scheme started with a pilot of seven applicants and this year it is taking on forty-six.
Among those who have benefited from the scheme is Waterlooville resident, Lewis Cunningham.
Lewis, 31, has lived in Portsmouth all his life and signed up for the Army at 18. He said: "My role in the Army involved a lot of travel. Being a tank crewman it meant I was constantly being posted abroad and, when I wasn't overseas, I'd often be away training.
"When my eldest son was born I missed the first few months of his life and that was really difficult as a dad. When my second was due I realised I wanted a career that would give me more time with my family and decided to leave the Army when the opportunity arose."
Lewis, who is currently working at David Wilson Homes' Berewood Heath development in Waterlooville, said: "I never thought construction was something I could get into at my age. I figured no-one would look twice at my application if I didn't have some sort of construction qualification or at least on-site experience.
"Barratt was brilliant. They focus much more on the qualities you have and your potential rather than what qualifications you have already. I think there are lots of qualities you develop in the forces that translate well to site management and housebuilding. You have discipline, teamwork, leadership."
Lewis is enjoying spending more time with his family thanks to his new career. "I can walk to work every day which is brilliant. I get that extra bit of time with the boys every morning and every evening."
To find out more about careers with Barratt Homes visit https://www.barrattcareers.co.uk/ and to find out about its Armed Forces Discount Scheme visit https://www.barratthomes.co.uk/offers/armed -forces-deposit-contribution/