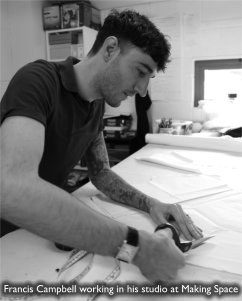 Havant-based craft organisation Making Space is the creative home for seven professional makers, who use their purpose-built studios to create work and develop their professional careers. Now, two tenants are flying the nest to reach new heights.
Costumier and couturier Francis Campbell, from Petersfield, had already made a name for himself designing costumes for West End musicals and blockbuster movies. Now he is on board for a Netflix series with a multimillion pound budget.
Meanwhile, fashion designer Liam Davis from Leigh Park is heading to the nation's fashion centre, London, for the next stage of his career.
Both of these talented individuals had their first studios at the Havant venue, and their success means there is an opportunity for new makers to join this creative community and take their work to the next level.
Nathan Chapman, Administration and Operations Co-ordinator at Making Space, says it will be bittersweet when Liam and Francis move on, but is excited for the chance it gives other local creatives.
"It's fantastic to see Francis and Liam reach a stage where they have outgrown their studios here. We will be very sad to see them go as we have such a close-knit group of makers, but at the same time this is exactly what our studios are for - to give people their first step on the ladder towards even bigger and better things."
Making Space's professional studios are intended as start-up spaces - a place where local craftspeople can move their work off the kitchen table and have a dedicated space in which to work and grow. As well as 24/7 access, tenants receive support and guidance from the Making Space team and the chance to offer classes and sell their work. The spaces are rented at considerably below the commercial rate, and tenancies are between two and five years.
The two studios will be available in the spring, one in March and one in April. If you are a maker looking to turn your talent into your business, Making Space would love to receive your application and will be happy to show you around and discuss the application process.
More information can be found online at https://makingspace.org/ or by calling the office on 023 9247 2491