Earlier this term second-year HSDC South Downs Film and TV Production students Isaac Callender-Barlow, Harry Cheesman, Jack Hilton and Hayden Kracke were tasked with creating a production during the latest lockdown.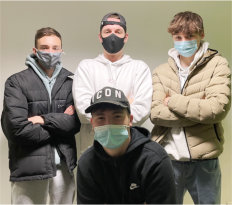 Hayden describes their effort, "After brainstorming some ideas, we wanted to produce something that would heavily support us in the future. Some of us want to go into Live TV Esports production, so we thought producing our own live event would look amazing on our CVs.
A lot of research went into what software we could use. The benefit of the software we chose was that all members of the team could be at home and communicating virtually so we were able to fulfil the brief project during lockdown.
"We were amazed by the number of teams wanting to enter and the number of live viewers we had tuned into the stream. When we opened the sign up for the competition, we were hoping to have 16 teams of 2 players each; in the end, around 64 teams had entered! It meant that we had to push the live event back a few weeks to organise a qualifying round so that we could also get an idea of the teams' skill levels and reduce the live stream competition to the top 16.
"The live event itself saw three teams walk away with prizes. In 3rd place was 'Jim & The GC Peach', who in the qualifying round made it to the final, 2nd place was taken by 'Kenz Krew', who were actually knocked out in the quarter finals of the qualifying tournament, but shocked us all by putting up a good show in the final. The winners were G3 Esports, who also won the qualifiers, so we were expecting great things from them, and what a game they played!
"The competition was sponsored by the Universities of Sussex and Winchester, who kindly offered prizes totalling £140 of Amazon vouchers"
To watch the YouTube live stream video, go to https://www.youtube.com/watch?v=1FOiHSBXtOU
To find out more about Film and TV Production on our South Downs campus, go to: https://www.hsdc.ac.uk/courses/creative-media-production-film-and-tv/