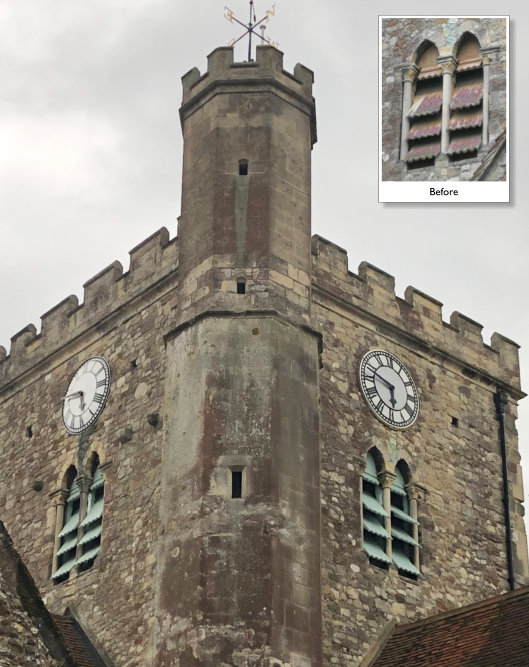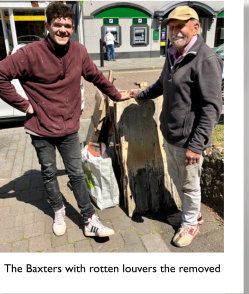 As the oldest civic and public building in the Town of Havant, St Faith's has stood at the ancient Roman crossroads for at least 800 years. Based on available records, for at least 400 of those years the bells of the church building have rung out over the town, calling the people to worship, commemorating the departed, celebrating weddings and grand civic events. The sound of the bells is released and directed by a series of louvres, or baffles – which can be directed down to the ground, or out over a greater distance when required.
Old Father Time, and the endless attention of pigeons had unfortunately led to those louvres falling into disrepair. Their surfaces were scoured by pigeon-feet, and the weather, and the tilting mechanisms had eroded beyond use.
Until, that is, Postcode Publications came to the rescue. Their grant of £1,600 enabled local craftsman, Keith Baxter and his grandson to be employed to renovate and repair the first of the three sets of louvres. Further grants, totalling £4,000 from Hampshire County Councillors Ray Bolton and David Keast then enabled the other two sets of louvres to be completed – with the cost of scaffolding and additional painting being picked up by the congregation of St Faith's.
The Rector of St Faith's, Canon Tom Kennar, told us "I am SO grateful to Postcode Publications, and their readers and advertisers, for having made the completion of our Tower project a reality.
The louvres project comes on top of their previous support for both the restored and re-guilded weather-vane, and the church's clock faces. St Faith's is everybody's building. We churchgoers are only the temporary custodians of a beautiful and ancient building which rightly belongs to the whole community. It's just brilliant when the whole community can come together like this to look after our building together."