Held on the 4th of April, at North Hayling Recreation Hall.
Singing for our supper, some of the ladies of Spirit-of-the-South , a local ladies harmony chorus, shared the evening with the Sunbeams, a lovely father and daughter Duo. Two different sounds, and both equally enjoyable.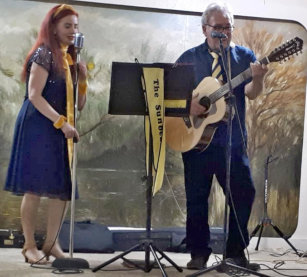 We started with a fun warm-up song, "Gee It's Good To See Ya" then gave a short explanation of how four part harmony works before moving on to the first set of two. We included some of our favourite show songs, such as Can You Feel The Love, from the Lion King, and Hallelujah, from Les Miss. These always go down well.
The Sunbeams were a delight, singing a good mix of songs from the 60's-70's and 80's. Soon everyone was toe-tapping and singing along, as they drew the evening to a close. The evening raised £90 + for The Dementia Awareness Group. This will be shared between Hayling and Havant Communities. We are looking forward to the 4th Havant Music Festival next year.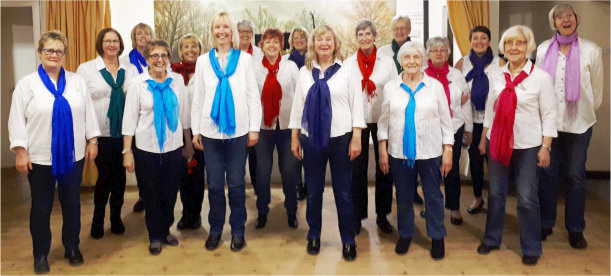 Singing is Sensational
Spirit-of-the-South invite you to re-kindle your passion for singing. You may have had a break, and now you need to return. If you are new to singing, now is your chance to experience all the fun, and the benefits.
We are a local, ladies four part harmony chorus, and have been together for over ten years. Now we would like to increase our membership. Our twenty-five ladies enjoy coaching days / week-ends, a wide variety of sing-outs, and we take part in local competitions.
We are affiliated to LABBS, Ladies Association of British Barbershop Singers, and have enjoyed Conventions at Llandudno, and Bournemouth.
We rehearse every Tuesday evening, at Havant Methodist Church, Havant, Hants, PO9-2HU, from 7-30 until 10pm.
On the FIRST TUESDAY of the month we have an OPEN EVENING from 7-30 until 9pm. Call 023 9264 1997 or 023 9245 1220. Follow us on Facebook. www.spiritofthesouth.co.uk