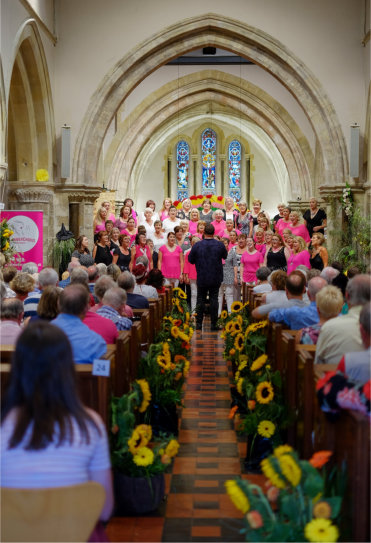 On the evening of Saturday 21st July Spinnaker Chorus performed a sell out show to an overflowing audience at St.Faith's Church in Havant. The concert entitled 'Love in Bloom' took place during the church's hugely popular Flower Festival. Spinnakerettes alone raised £725, from ticket sales, towards St.Faith's Big Build Campaign, which provides greatly needed funds for repairs and refurbishment of their many historical buildings and also to benefit their community projects.
The Flower Festival theme this year was 'Songbook' and the beautifully adorned church featured stunning floral arrangements representing particular songs, contributed by local businesses and friends of St.Faith's. Even approaching the church you suddenly became aware of the wonderful scents spilling from within and once inside these filled the air bringing a special ambience to the evening.
In keeping with the colourful, floral surroundings Spinnaker chose to wear a more personalised, individual costume for this event with a pink, white and black theme making us feel and look very bright and summery.
Our concert was a celebration of love across the seasons with songs and a specially penned narrative including poetry with a floral twist. Our song list included True Colours, Africa, My love is like a red, red rose, Lazy Day plus many more. The evening also showcased our talented quartets, Sapphire singing Zing went the strings of my heart and One Degree West, a mixed foursome featuring our very own Musical Director, John Palmer, who sang 7 Bridges Road. We also always encourage small groups within our Chorus and our fabulous ladies in Decadence delighted us all with a perfect performance of Paper Moon.
Spinnaker Chorus thoroughly enjoyed the evening, we are so passionate about our hobby and just love performing. Our audience was fabulous, especially showing their appreciation with multiple standing ovations during the show. We would like to thank Canon Tom Kennar, for inviting us to be part of the Flower Festival this year and to all of the Church assistants for being so welcoming and helpful. We are pleased to have been able to help the fund-raising effort and hope that we can do so again at future events.
For further information about Spinnaker, whether you would like to book us or are interested in joining please visit our website www.spinnakerchorus.co.uk or email info@spinnakerchorus.co.uk