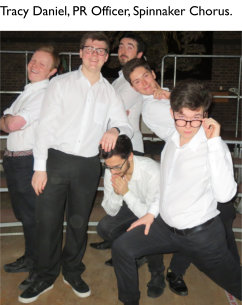 Rehearsal night on Wednesday 6th February was a different one for Spinnaker Chorus as we took our a cappella, 4 part, Barbershop harmonies to Chichester University. The purpose of our visit was to provide a Barbershop workshop for students studying various music degree courses there. This initiative was the brainchild of Spinnaker Chairman, Jill Cook who is a University Governor and Susan Legg, Head of Music at Chichester.
The music course students were invited along to see the magic of Barbershop in action as Spinnaker passionately sang numerous songs from our varied repertoire for their entertainment.
So impressed were we that JP has invited Chi Tones to guest with us in a future concert.
The misconception that Barbershop is an old fashioned genre is so outdated. Spinnaker Chorus had an excellent time at Chichester demonstrating that our hobby is anything but old fashioned. Our music brings happiness and joy to all ages and it was a treat to watch the delighted students as they listened and absorbed what we do. We look forward to developing a relationship with Chichester University and the possibility of more workshops and events there.
Spinnaker Chorus welcomes new members from the age of 14 upwards. For further information visit www.spinnakerchorus.co.uk or email info@spinnakerchorus.co.uk.