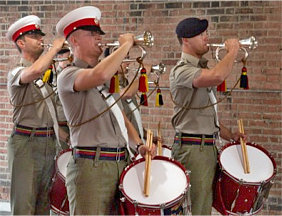 We were so lucky at Catherington WI to have someone with connections with the Royal Navy and because of this we had the rare chance to go to the Royal Marines school of music for a personal recital and a tour around the school just for our WI.
We were allocated two outings so that all our members had the chance to go .
I went on the second Monday slot and after a short mini bus trip into Portsmouth we arrived at the gate of HMS Nelson where our names were ticked off and photo IDs were checked before our bus was escorted to the Royal Marine school of music building .
We were given a short health and safety talk and warned not to wander off alone before being taken to the hall where we enjoyed a musical recital by the various young musicians on different instruments. Amongst the songs was a rendition of Jerusalem which was lovely so much better than our efforts at our monthly meetings!
After a very enjoyable time being entertained by their music we were taken to Gibraltar Block which used to be the detention quarters for the Royal Navy . What a great way to preserve an historical building and be utilised for musical studies.
We also saw the role of honour containing the names of musicians killed in service amongst other tributes.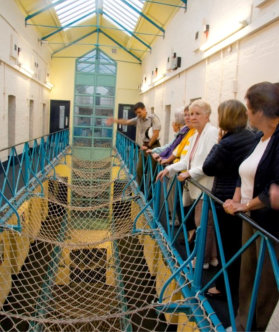 We were then taken to the rest area of the young musicians where we were offered tea and coffee. Fortunately the member who had arranged the trip had sorted out cake makers from our WI who produced some delicious assortments to give to the musicians who had entertained us, and there was no shortage of cake eaters!
Apart from their musical studies of which they have to play two instruments competently the students have their Royal Marine training which includes marching and playing instruments at the same time to a very high standard and the training is one of the longest and most arduous in the navy . We were so lucky to have had this opportunity and a big thank you to Di for arranging this visit
By
Jenny Rowney (Catherington WI)