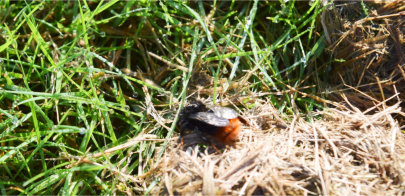 More than £34,000 has been donated by a regional co-operative to wildlife projects in Hampshire and the Isle of Wight helping communities discover nature in their neighbourhoods.
The funding from Southern Co-op supported a variety of local schemes run by the Hampshire & Isle of Wight Wildlife Trust working with schools, children, families and members of the public to benefit the local wildlife.
Among the beneficiaries was St Mark's School in Basingstoke. Hampshire & Isle of Wight Wildlife Trust has worked with the school to run sessions with The Bridge project at St Mark's, which aims to help children who have special educational needs, and an after school club which engages pupils with the wildlife on their school grounds.
The Wildlife Trust has also worked with Hatch Warren Nature Group who have restored St Mark's Meadow, from amenity mown grass to a herb rich wildflower meadow next to the school, offering pupils the opportunity to benefit from this revitalised green space through a series of events.
Other schemes include resources for eight Wildlife Watch groups across Hampshire and the Island.