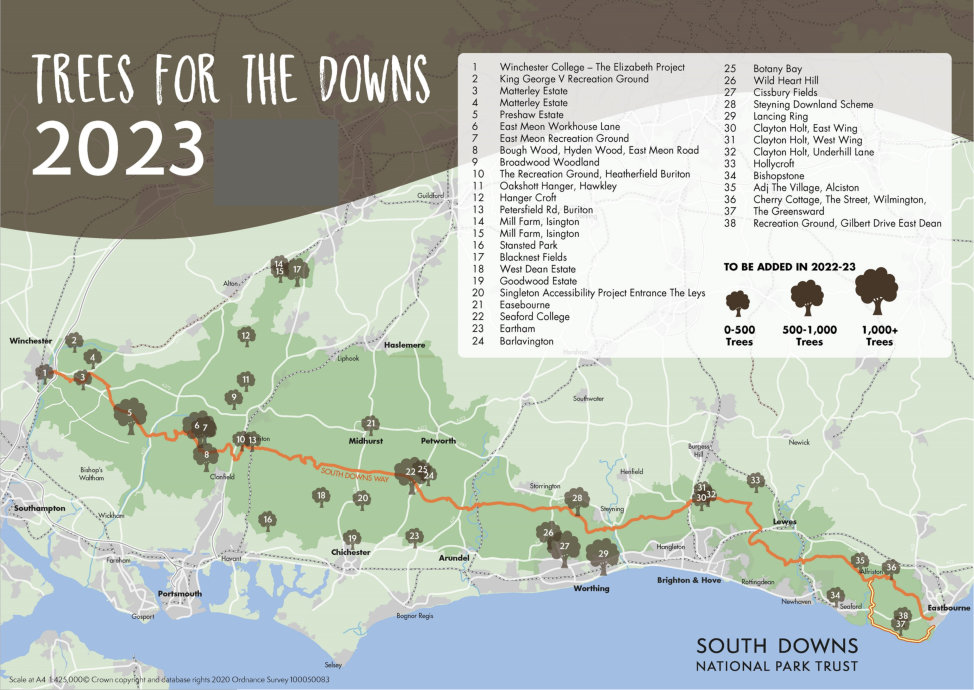 Major tree planting under way as new research reveals potential to create massive carbon sink in South East
Over 28,000 trees are being planted across the South Downs in memory of Her Majesty Queen Elizabeth as a new report reveals the huge potential to fight climate change with woodland creation.
National Tree Week last November, saw scores of trees going into the ground at more than 30 sites across the South Downs National Park (see map and full list below).
Over 12,000 trees were planted last winter, and a further 16,000 are being put into the ground this coming winter, as part of the Trees for the Downs and Queen's Canopy initiative.
Other exciting developments include:
A special tree, "The Queen's Elm", is being planted at Seven Sisters Country Park. The beautiful tree is resistant to Dutch Elm Disease.
A 3,000-year-old yew tree in the National Park at Farringdon, Hampshire – one of the 10 oldest trees in Britain – has been saved from collapse following a massive community effort to raise over £13,000 to install a bespoke bracing system.
To donate to Trees for the Downs, or to make an application for potential tree planting next year, visit: www.southdownstrust.org.uk
The deadline for applications is 28 February