While lockdown restricts social activities in groups larger than six the Southbourne Men's Shed Railway Group have been enjoying regular Chat Sessions to overcome loneliness and boredom and remain active mentally, socially and sometimes physically. Meeting in the Southbourne Men's Shed in New Road the afternoons pass quickly for up to five railway enthusiasts as they chat about anything that comes to mind including reminiscences and nostalgia, the news, current interests and of course, railway related subjects in a warm, safe environment.
The group were constructing a model railway using items generously donated by local supporters until the restrictions on meetings and social distancing prevented progress, as the Shedders often need to work closely together. Several parts of the project can be worked on at home so construction of buildings, wagons and coaches can continue, ensuring the members have small projects to keep them active between meetings.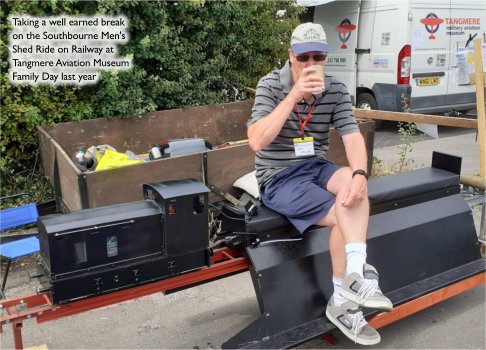 The layout when finished will depict a small rural terminus station with a single platform, a few sidings serving a factory or dairy, goods shed, engine shed and a short siding to a small industry. To date, the track has been laid, wiring to energise the rails and the electrically operated points are tested and are working well. When work resumes a start will be made on the scenery, which with the engines and rolling stock will bring the layout to life.
Southbourne Men's Shed also have a Ride on Railway which they take to fairs, fêtes and shows for children of all ages to enjoy as they ride on a raised railway behind a locomotive with a passenger trailer purchased with a generous grant from Sussex Giving Fund at Sussex Community Foundation. Lockdown has been an opportunity to lengthen and strengthen the rails and carry out other maintenance on the track ensuring greater safety for the hundreds of passengers they usually carry.
If you are interested in railway topics or model railways and wish to chat with like-minded chaps, or if you would like to donate redundant railway items please contact us via our website: www.southbournemensshed@btck.co.uk or call 07539 103015.
By
Douglas Meany, Secretary