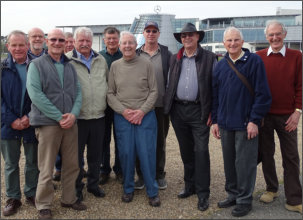 "Our club was started to improve the social well being of older men in the village… ". "We are now able to offer physical, mental and social well-being as part of our ongoing aim to improve the lives of our members." This is an extract of an introductory welcome to thirty delegates from across West Sussex who gathered in Southbourne to consider the formation of a networking group for similar men's clubs.
The networks are made up of several Men's Sheds in an area that will meet regularly to discuss ideas, problems and successes that help to make Men's Sheds more popular meeting places for older men and those who have ceased full time work. West Sussex is home to over twenty Men's Sheds where men can meet regularly to enjoy a 'chat and a cuppa' or work alone or in a group on individual, group or community projects.
Southbourne Men's Shed (SMS) was pleased to host the first meeting sponsored by West Sussex Sheds - a small department of West Sussex County Council.
Southbourne Men's Shed is open to all men in the Emsworth to Chichester area. It has a clubroom where men sit and chat with like-minded men, without commitment, or use the well-equipped wood or metalwork rooms, all at minimal cost. If you would like 'Somewhere to go and something to do', meet new friends or to find out more about SMS please call in on any Tuesday or Thursday morning and enjoy a complimentary coffee and a cookie and a warm welcome, call 07539 103015 or check us out on-line at:
www.southbournemensshed.btck.co.uk or https://menssheds.org.uk/  Southbourne Men's Shed, Age Concern Buildings, New Road, Southbourne, Emsworth PO10 8JX.