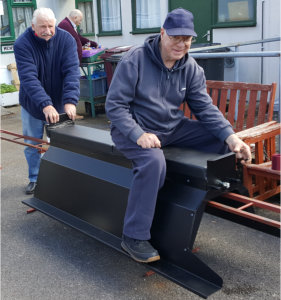 Southbourne Men's Shed has been awarded £1000 by Sussex Giving Fund at Sussex Community Foundation in it's latest round of grant giving. The grant will pay for a new coach for their Ride on Railway which they use for raising funds for local groups including the Men's Shed.
The railway that is over 120 feet long has already given pleasure rides at several local events in the past three years but it was in need of a better, safer coach. Men's Shed Ride-on-Railway can now offer more comfortable smooth rides to hundreds more children of all ages.
"We are delighted to have received this grant," said Douglas Meany, Secretary to Southbourne Men's Shed. "It means we can continue to support local community fund-raisers, schools, churches and other charitable groups with our railway and we're really grateful for the continued support of Sussex Community Foundation and it's donors."
Southbourne Men's Shed was opened over three years ago to give local men who have ceased full time employment, a meeting place where they could remain active mentally, socially and physically. It is a not-for-profit, non religious, non political, group of older men who enjoy having somewhere to go and something to do on weekday mornings as they enjoy coffee, cookies and chat in a safe friendly atmosphere. Shedders can sit and chat or use our fully fitted workshops to follow a hobby or complete an individual or group project for himself, the Shed or the community. Several new skills have been learned and men from all walks and professions have formed many new friendships.
Our membership is open to all men of the West of Chichester area who can get there, so come along and see what you can get up to at Southbourne Men's Shed - at The Old School, New Road, Southbourne, Emsworth. PO10 8JX open Tuesday and Thursday mornings 09:30 till 12 and at other times.
For information, visit www. southbournemensshed.btck.co.uk or www.sussexgiving.org.uk or call 07539 103015