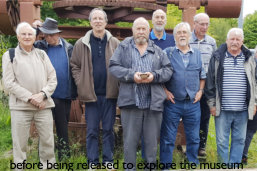 Southbourne Men's Shed is a community group of older men who have ceased full time work and want to remain active socially, mentally and physically with like-minded men of a similar age.
Now that we are entering winter and the weather is changing, it is good to reflect on some of the late summer activities enjoyed by Shedders (the name for our members) from the Men's Shed at Southbourne.
September began with the usual activities in the Shed, drinking coffee and chatting, with a few active souls working on small personal projects.
Although it was a midweek trip and the steam driven machinery on the site was not working, eleven Shedders enjoyed a fine morning exploring the large Bursledon brickworks site.
Goodwood Revival meeting on Friday 8th Sept was an exciting day out although, at times, the weather tried hard to spoil it. Shedders from all over the county were invited to enjoy an introduction to the 'Gateway Project' in the new entrance buildings at the Singleton museum before being released to explore the museum whilst a luncheon was prepared in the new restaurant building. After an interesting lunch, Shedders spent the afternoon visiting many of the restored buildings at this excellent local museum.
'Race Night' was great fun as Men's Shed hosted another fund-raising evening for Age Concern Southbourne. We were pleased to present the proceeds of the event to Age Concern who allowed us the use of their hall.
Southbourne Men's Shed is a Member of UK Men's Sheds Association and we were delighted to host a buffet luncheon and meeting of over 40 delegates from the Southern Men's Shed Network on 25th September. It was a pleasure to show off what we have achieved in the short time Southbourne Men's Shed has been running, to much praise from Shedders from all over the region.
Our final main event of the month was a Macmillan Coffee Morning on 28th September when we were pleased to welcome so many people to enjoy not only Coffee and Cake but also Bacon Rolls and Coffee. We had to rush out and buy more bacon as the Shedders enjoyed a rare treat even before the doors were opened to the public who kindly came along to support us. We were pleased to send a cheque to Macmillan Cancer Support and we thank you for attending.
Southbourne Men's Shed welcome new members at The Old School, New Road, Southbourne, Emsworth.