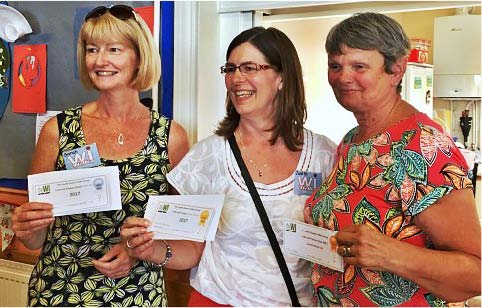 The seven institutes that form the South Downs Valley Group of WIs held their first ever group craft and produce show on Saturday 2nd September at St Georges Church Hall, Waterlooville.
Mrs Pat Rowling, of Padnell Park WI, thought of the idea of a show during a conversation on a car journey.
Pat was encouraged by Mavis Jones WI Advisor to share this idea and a small show committee was convened with members from Denmead Belles and Horndean and Padnell Park. Several months later the day of the show arrived.
The show had nineteen classes voted by local judges. These classes included craft, baking, preserves and art. The class 'Autumn in any medium' was voted for by those attending the show.
The show was opened by Mr. Brian Kidd, local well respected gardener and former head of parks for Portsmouth City Council.
The Women's Institute had the pleasure of the attendance of, Deputy Mayor of Havant, Cllr Peter Wade and the Deputy Mayoress, Mrs Janet Wade.
To represent the villages of Denmead and Hambledon the Mayor of Winchester Mr David McLean together with the Mayoress, Mrs Diane McLean.
Some of the exhibits are to be donated to local good causes. Twiddle Mitts, to be donated to Medicine for Older People at Queen Alexandra Hospital for patients with dementia or delirium.
The overall winner was Mrs Judith Broom, Denmead Belles. The runners up were Mrs Sarah Lewis Denmead Belles and Mrs. Stella Jones, Padnell Park.