A regular meeting of Havant Rotarians  was interrupted by Singing Gorillas!
No, not live ones but a  locally led Charity of that Name.
Amanda Mardell CEO of Thesis Technology spoke to Havant Rotary Club members at their meeting on Monday evening held at The Bear Hotel Havant.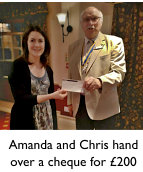 Amanda explained that Singing Gorilla Projects was started a few years ago by another local CEO Chris Read, of Dunstan Thomas after he visited the region and was  impressed by the wonderful musicality of the local tribe. His initial vision was to supply musical instruments. This idea quickly morphed into a building schools, supplying water tanks and now building a Peadiatric and Midwifery extension to a local Health Care Facility.
The Charity works on the Nteko ridge and the surrounding hills in the Kisoro district of Uganda, a stone throw away from the DR Congo border, close by to Bwindi, the home of the last remaining majestic Mountain Gorilla.
Singing Gorilla Projects (SGP) funds and manages community based projects in this region of Uganda. They work to improve the welfare of communities by building and managing health facilities, building schools and sponsoring children to continue their schooling. There are also water delivery programs supplying water tanks, water filters and water pumping projects.
Lots of Information on the web site: www.singinggorillap.com
The talk was fascinating and the video clips entertaining. These can be seen on YouTube linked from the Singing Gorilla website.
Havant Rotary President Chris Roberts gave the charity a generous cheque of £200.00
Chris said 'This is a Charity which has local roots, and it's aims, to look after the health of woman and children, supply clean water and education is a great match to Rotary aims. '
By:
Jenny Edgell, Havant Rotary Club