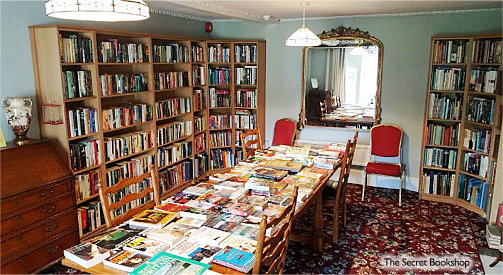 The secret is out, that there is a Secret Bookshop in Bedhampton. The Secret Bookshop is managed by the Bedhampton Historical Collection Group who established it in 2014 as a fund raising project, selling books from boxes and crates at various events in the Bedhampton area to raise funds for the Manor Trust. Last year the Trust offered the Secret Bookshop a permanent home in the old library of The Elms where they sell a good range of second-hand and out of print books with some hard to find and antiquarian books.
The secret is still well kept, as the bookshop is only open on the second Tuesday of each month between 10am and 12 noon at the monthly Coffee with Books Mornings where visitors can look around the bookshop and enjoy a coffee in the spectacular surroundings of the Waterloo Room; a large Adam brothers influenced dining room, built in the early 1800s by the then owner, Sir John Theophilus Lee.
In addition the group also host regular talks in the Waterloo Room.
The Secret Bookshop and The Waterloo Room are in The Elms, 2 Lower Road, Bedhampton, Havant, PO9 3LH. Please note that the house does not accept personal callers outside of specific event opening hours.