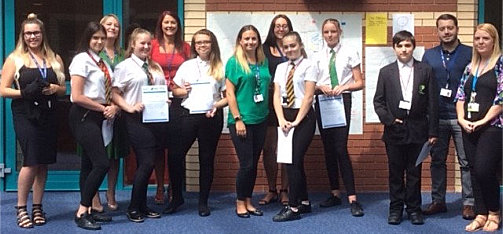 SSE (Scottish and Southern Energy) helped to develop young people's employability skills and at the same gained a valuable insight into their marketing of apprenticeships to young people.
SSE hosted a unique programme with EBP South for a group of students from Park Community School. LEAP (Learn Excel Aspire Programme) covers sessions that help young people to become work ready by learning teamwork skills, leadership, communication and management, time management, first impressions and presentation skills.
The programme has been developed to support young people with employability skills whilst also linking them to the world of work which businesses say young people lack.
CBI/Pearson Education, Education and Skills survey 2016: The Right Combination found that "50% [of businesses] are not satisfied with young people's communication skills and 50% and most important factor employers weigh up when recruiting school and college leavers is their attitude to work (89%).
All the sessions took place at the SSE's office's delivered by EBP South staff with the support of SSE's staff over 6 weeks. During which the young people learnt about roles in the business from employees, got to experience the work environment and worked towards their end project set by SSE.
The end project set by SSE was to present on 'How can SSE enthuse young people to take up their apprenticeships and develop their employer brand.' The young people gave essential advice and creative ideas that SSE were take back to their teams.
It was a great opportunity for SSE to be proactive in supporting their local community as well as develop their communication skills, training skills and leadership skills.