Eco car goes down a storm at Westbourne Primary School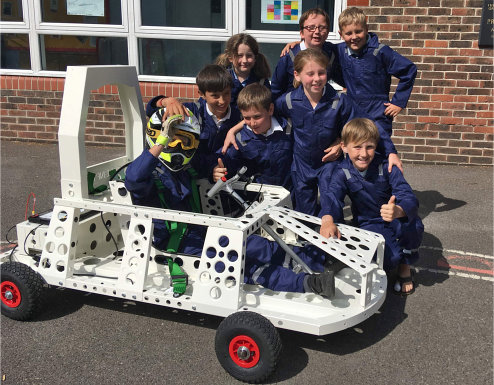 A team of 8 pupils, 4 boys and 4 girls, have been set the task to build and race an electric car. Each year a new team is selected to race and this years future stars are over the moon at the opportunity to show their work at local famous race track, Goodwood, in the new year. In addition to the team of racing enthusiasts they will be followed by their own team of young reporters, keeping the next year students excited for what is coming their way in the future.
The children have been busy raising funds for equipment to complete their project and are really showing their enthusiasm for learning. This project is a great way to bring pupils together and provide a thrill of learning. Westbourne Primary School have been given a great tool to inspire education for 9-11 year olds that will give them a base of knowledge for a potential future career, all whilst focusing on green issues and reducing carbon emissions with electric cars.
We welcome the bright sparks of Westbourne and look forward to seeing them compete this coming academic year. As a global project the excitement for the children to compete against other nations has proved to be an exciting opportunity for the pupils and has sparked an interest in the geography around registered teams.
The eco cars journey can be followed through the Final Straw Solent social media pages and via Postcode Publications.