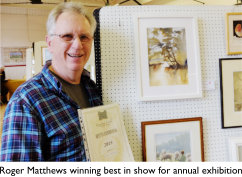 The Rowlands Castle Painting Society recently celebrated the quality of members work at the Annual Silver Cup Awards. Submissions by members are entered anonymously as this makes for a fair and unbiased result and everyone present had a chance to vote for their favourite painting in various categories.
While the votes were being counted members were able to enjoy an excellent American supper organised by Suzanne McGowan, Fiona Chaâbane, Pat and Ian Hoper and helpers. Worthy winners of the 2018 Silver Cup Awards were Sue Tricket-
Mixed Media Shield, Gill Dollery-Cotterell Cup, Sally Williams-Portrait Cup, Eileen Hathaway-Wildlife and Creative Cup, Margaret Theobold-Jennings Wood Trophy (chosen by Alan Drinkwater as his favourite painting), Andrew Kerr-Life Study Cup,Ann Newsom-Seascape Cup, Kath Brett-Novice and Animal Portraiture Cup, Roger Matthews-Watercolour, Field and Acrylic Cup, John Prime-Minature Cup, Maureen Molyneux-Pastel Cup, Bob Payne-Flower Cup. Jan said Congratulations to all members who helped the evening run smoothly especially Ann Newsom, the exhibition team and members of the committee organised the evening.
The second event that took place this Spring was the Annual Exhibition and Sale. Jan said "Sterling work by the exhibition team, stewards, volunteers, members of the committee and excellent paintings by members all contributed to making a superb show." The catering team in 'Pats Café' worked hard providing refreshments with cakes made by members.