The postponed Round the Island Kayak Event eventually took place on 12 October in wet but calm weather.
This annual event, run jointly by the local Fire Service and the Hayling RNLI had attracted some 55 entrants to face the challenge to complete the circumnavigation of Hayling Island, and to raise funds for the Fire Fighters Charity and the RNLI, but it had to be postponed in September due to high winds. The organisers were pleased to welcome 41 entrants in mid-October and all but two teenagers completed the course.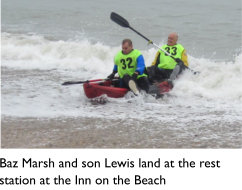 The event attracted kayakers from near and at a distance with entries from Chertsey, Bracknell, Basingstoke, the New Forest and Tangmere. Danny Easom-Taylor came in a frock (pictured at the start) and brought his teenage daughter and her friend who found the going tough and had to retire but Dad went on to win the best moment award. The Hill family from Hayling made it home with Mum Sue being the oldest lady entrant and said 'It was tiring and I was cold and the waves on the last section were hard work.' Baz Marsh and his son Lewis in a two man kayak got round tackling the surf at the Inn on the Beach (pictured in the surf) but the sea across Hayling Bay was in fact very calm.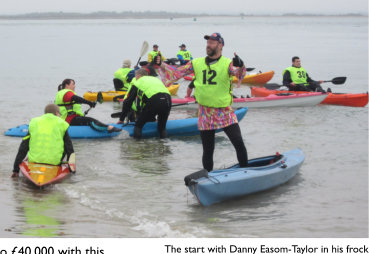 Kerry James, Head of the Firefighters Charity in the SE, took part with colleague Kevin Biles. Both completed the event in under three hours and Kerry said 'It was a really well organised event and we had wet but otherwise good conditions, but it was very tiring and sitting in the kayak made my hips ache!'
The Rapid Relief Team supported the event with hot drinks and burgers. This team are part of a global network of catering support for charitable events and for crises such as big fires and natural disasters. They are church funded and bring support and goodwill to all sorts of events globally, and we are immensely grateful for their help.
Now we look forward to the sponsorship rolling in. This is the 7th year of the event and has raised well over £30,000 so we hope to get to £40,000 with this year's money. Our thanks to all who took part, and to those who organised and provided the safety for it.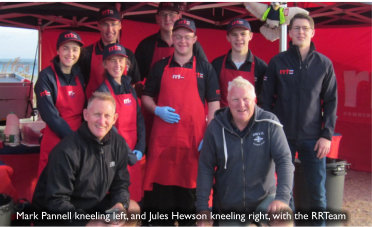 Hayling Island RNLI Station has a D-Class lifeboat 'Jacob' and an Atlantic 85 'Derrick Battle.' On average there are 75/85 launches per year and we were the 5th busiest station in the SE Region in 2015, and the busiest of the immediate local stations.
For more information please call Alan Bartlett, Volunteer Lifeboat Press Officer, on 023 9246 3441 or 07749 061220 or email: pressofficer@haylinglifeboats.org.uk
Alternatively contact Paul Dunt RNLI Regional Media Manager (South East) 02076 207416, 07786 668825