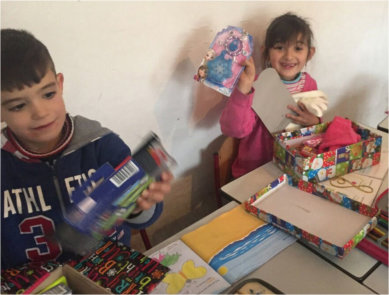 Readers might have heard of Havant Rotary Club and seen us about at Christmas time with our Sleigh, at other times collecting for International emergencies or for local charities. They might see our members helping out in Emsworth in October, our President laying a wreath on Remembrance Sunday and enjoy the Christmas lights in Emsworth when we are there with our sleigh and Santa! The support of the people of Havant to our local and international causes is much appreciated – we live in a time of great need and Havant people are kind and generous with their support.  They enable us to carry out and develop projects in our home area and support the Rotary International Foundation charities that do so much good in the world.
Rotary aims to be a charity that supports the local community and our International neighbours who are in need of help.  We supported Park School's work in Tanzania so that a group of pupils could visit and learn about life there and support young people in their school.
Rotary is unique in that all money collected for charity goes to charities there is none taken for administration. Membership fees cover that.  All Rotarians are volunteers giving their time and energy to give something back to their local and international communities.
Havant Rotary aims to make a difference in people's lives both at home and abroad through supporting projects and initiatives that help others.  Like other Rotary clubs in the Portsmouth area, we are committed to developing projects that benefit the young that support the needs of the elderly and the community groups that might need our support.
We enjoy working with other Rotary clubs and are organising a concert at The Portsmouth Cathedral in aid of supporting young musicians.  Francesco Attesti, an international concert pianist and a fellow Rotarian is coming to give a concert on November 15th at 7.30.  He will be joined by a local choir The Fine Voice Academy for an evening that we hope all who attend will enjoy.
Francesco Attesti
We work on Youth projects and are currently developing an exciting new project with PETA and local schools to encourage youngsters to think about engineering as a possible future for them. We are working with PETA to develop this initial project as an on-going event in school calendars so that many youngsters will have the chance to learn about the engineering options before them.
Readers may be familiar with our Young Chefs competition which as seen aspiring chefs win at District and enter into the National finals.  Our Young photographer competition saw local youngsters going through to the National finals.
A scheme very much on our minds at the moment is the PCSO project that works with Year 6 primary pupils to help them develop the skills they need to have a successful time as they move through secondary school.  It aims to give them confidence to take on challenges and gives them awareness training on how to deal with social media.  The video that is shown is a must for young people as it highlights how to recognise and deal with online predators.  We aim to help develop this project with schools in our area.
Our community work has seen us supporting Step by Step a charity in Leigh Park which supports the young homeless. We introduced them to Fat Face who have also worked with them to develop projects to support their youngsters.  We also support MUNCH as do Fat Face – a project set up by Park community school.
We are working to develop links with business, charities, schools in the local area so that we can share skills, develop projects that support our local communities.  Hence the link with Fat Face and PETA. Any businesses interested in working with us only have to get in touch if they wish to learn more about how they can support the community they are based in.
We helped Bedhampton Carer's Craft Group by paying their rent and organising speakers and crafters for 6 months while they developed their funding after it had been removed.
Rotary supported the development of Havant Men's Shed and our Vice President is a regular there, helping develop projects such as refurbishing park benches and making planters for a local home.
Dementia Awareness is something Rotarians take seriously and we have had Dementia Friends training and members support the Dementia Awareness project in Havant.
We support The Friends of Staunton Park, Angel Radio, Emsworth Christmas Lunch, Havant Music Festival, Craft Carers and have planted trees at Farm meadows.
In the past year we have revived the Blue Plaques that tell about the area, initially provided by Havant Rotary alongside Havant Borough Council.
Our International work includes the Tools for Self Reliance project that started with a collection outside Tesco's in Havant on 25th May. We are still receiving tools bring tools so they can be rejuvenated and given to someone who may be able to earn a living with them elsewhere in the world.
End Polio Now is a worldwide Rotary project started years ago to eradicate polio – supported by the Gates Foundation who triple our donations – thanks to Rotary's efforts the mass vaccination programmes carried out over the years have helped to nearly eradicate polio completely - cases each year now number under 10. We are nearly there!
Shoeboxes are given out annually to be filled with toys and essentials for children who might not otherwise have anything at Christmas. These are collected, checked labelled and shipped by Rotarians and we sent 737 boxes to Moldavia, Romania and Albania last year – we hope to fill more this year!
In times of disaster we send funds for Shelter Boxes to be sent to the disaster zone and often link with a local Rotary Club in the area to provide help after the cameras have left.
As a club Fellowship is important to us and we have social events and look forward to our annual appreciation of the hospitality of Havant and Southdowns College student chefs and the young waiter and waitresses who serve their brilliant food!
You will see us at Christmas times when we collect with our popular Sleigh – seeing the young faces light up when they see Santa on the sleigh makes our night!
We go on visits, have interesting speakers and generally enjoy the support of Rotarians in all our endeavours.  Rotary is for working adults and those recently retired often find friendship and a new lease of life when they join a Rotary Club.
Our motto is: Service above Self and good fellowship!