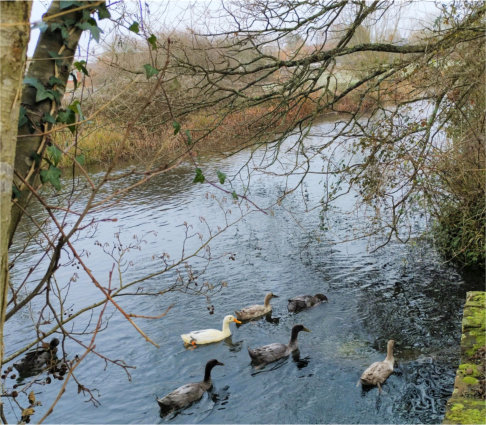 A local environmental group is calling on national authorities to step up and protect the River Ems from local water companies' plans.
The Ems, a rare chalk stream, is threatened by the amount of water taken from its underground sources by Portsmouth Water (PW).
The Friends of the Ems group (FOTE) sees the planned Havant Thicket reservoir as an opportunity for PW to reduce pressure on the river and help it regain a proper flow.
But the company has done a deal which would mean that supplies would be piped out of the local area and used by Southern Water (SW) instead.
Now FOTE is calling on the national water industry regulator Ofwat and the Environment Agency to act.
A FOTE spokesperson said: "The proposal for a reservoir at Havant Thicket gave us hope that the ability to capture and store new water would enable a reduction in the amount taken from the sources of the Ems.
"But it looks like none of the reservoir supply will be used to help our river. Instead, PW and SW have signed an agreement proposing a transfer of 60m litres per day from the local area. There is a proposal to convert seawater to drinking water using a plant at Fawley, which we support. But if this does not go ahead, the amount transferred could increase to 115m litres per day.
"The Ems, with its trout and water voles and kingfishers, is in crisis. The effects of the water being taken by PW are becoming more and more apparent in the summer and early autumn, when flows drop and sections dry up altogether.
"The evidence of damage to the Ems, which has been known for years, should be acted upon. This transfer of water out of this area should not be allowed until steps have been taken to ensure proper flow in the Ems. And Havant Thicket should not be a missed opportunity. Further progress on the reservoir plan should only be permitted on condition that watercourses like the Ems are protected and restored.
"We acknowledge the need to maintain a public water supply in the face of population growth and climate change. But this cannot be at the further expense of fragile habitats, and the plants and animals they support."
The Ems flows through the South Downs national park in West Sussex, near the Hampshire border, and into Chichester Harbour at Emsworth. FOTE is part of Greening Westbourne, a campaign group in Westbourne. Greening Westbourne has been supporting a proposal by Chichester District Council to make the area along the Ems a designated 'wildlife corridor' because of its environmental importance.
Local people who want to join FOTE can get involved by signing up as supporters. They should email greeningwestbourne@hotmail.co.uk
For more information find Greening Westbourne Campaign on Facebook or search Greening Westbourne to find the group's website.