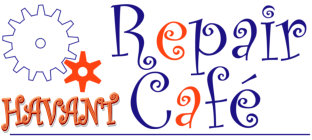 Repair Cafe Havant was due to officially launch on 13 June but like so many things had to take a back seat as the area struggled with the challenge of coronavirus. However as we emerge from lockdown plans are afoot to get the Repair Cafe up and running within the next month or so. Our location will be at the Pallant Centre in central Havant and we will open once we feel it is safe to do so.
The Repair Cafe does not intend to take work away from existing repairers but instead offers a chance to keep items out of landfill and in use for longer. At the same time it offers the opportunity for people to learn new skills by watching a repairer fix an item.
If you want to keep in touch with what is happening with Repair Cafe Havant or would like to find out about volunteering with the Repair Cafe please join the Facebook group – search for "Repair Cafe Havant" or drop an email to repaircafehavant@gmail.com. The Repair Cafe relies on volunteers – not just to repair items but also as the first point of contact – welcoming visitors, taking details and matching up items in need of repairs with repairers.