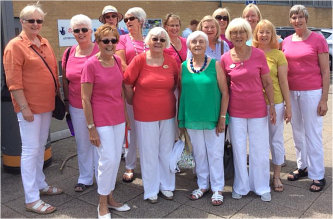 Spirit-of-the-South sang in aid of Cancer Research UK at the Survivors Lunch held in June at the Mountbatten Centre, Portsmouth.
They are a Havant based chorus for ladies, who enjoy singing in Four Part Harmony, and have supported this worthwhile cause for some years . They said that it was a pleasure to sing to such an appreciative audience.
Everything went well. The sound system was set up and ready to go, everyone was seated, and even the weather co-operated.
As this years theme was Disney, they did have one appropriate song,which was Can You Feel The Love, from The Lion King.
Hallelujah, from Les Misserables, and Anthem from Chess, went down very well, as did the rest of their programme. Many thanks were given to Gillian Rose-Smith, and Cate Kelly for Musical Director duties, and their Angie for counting them in for, One Fine Day.
Spirit-of-the-South rehearse every Tuesday evening, at Havant Methodist Church, Havant, Hants, P09-2HU, from 7-30 until 10pm. For more information call 023 9264 1997 or 023 9245 1220. or go to: www.spiritofthesouth.org.uk or follow them on Facebook.