Our Final Straw Solent branded Chilly's reusable water bottle is brilliant. Keep cold drinks cold for up to twenty-four hours. Hot drinks stay hot up to twelve hours. The bottles are made from durable, high-grade 304 stainless steel, for both the inside and outside walls.
Thanks to amazing sponsorship of these bottles by Postcode Publications and Portsmouth Water, we are able to offer these bottles at a discounted price to the recommended retail price.
We want as many people as possible to STOP buying single-use bottled water and soft drinks, which is why we are offering these fantastic quality bottles at as low a price as we can. All profits from sales of these bottles will go straight back into our schools and community outreach programme, and materials for spreading the word to more people about minimising their plastic waste and keeping litter and plastic pollution out of our environment. Our brand new Final Straw Solent Chilly's water bottles are now for sale online at https://finalstrawsolent.fws.store/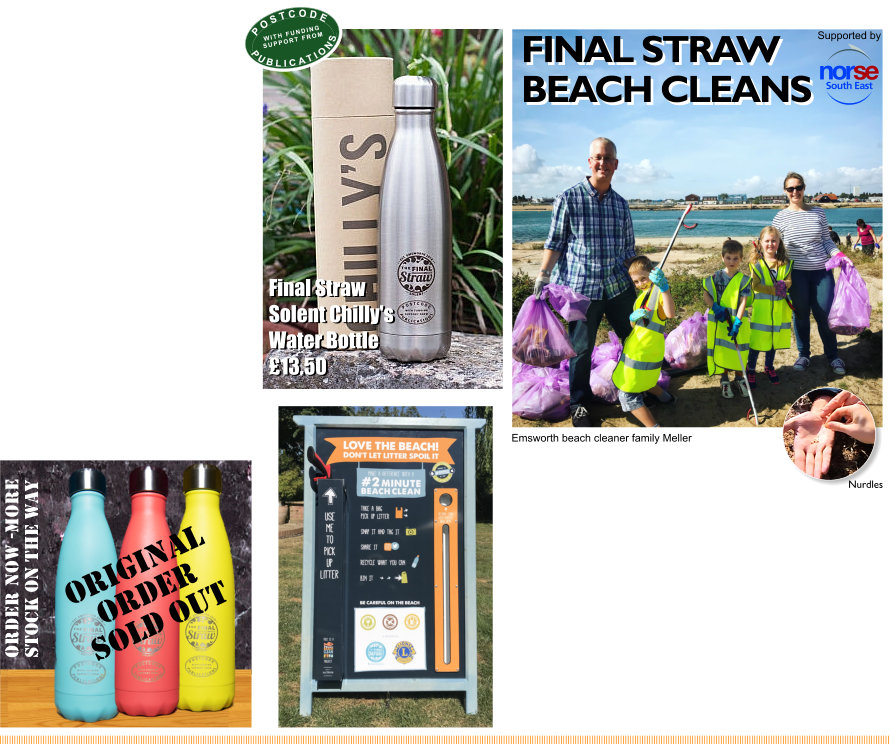 Final Straw Solent's beach clean programme is being incredibly well supported, with over five hundred attending eleven beach cleans so far this year. The passion and dedication of the volunteers who come along is fantastic.
Three hundred and fifty bags of plastic waste and litter were cleared. This pollution includes thousands of plastic nurdles, cotton bud sticks, bottles, bags, tyres, packaging, wrappers, tarpaulins, fishing net and even a kitchen sink!
The thing that always shocks new volunteers is that a beach can look superficially clean - until they really look closely. One of the key areas targeted is the Ferryboat end of Hayling Island, where levels of micro-plastics are incredibly high.
Eight '#2minutebeachclean' 'A' boards pictured left are in place to provide passers-by with a litter picker and bag to encourage them to clean up. These have been very well received and more will be provided.