3 West Street, Emsworth, Hants PO10 7DX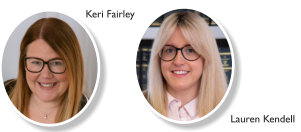 Penny Smith and Marie Slavov, Directors of Belcher Frost Solicitors, are pleased to announce the well-deserved promotions of Keri Fairley and Lauren Kendell to Associate Solicitor.
These promotions reflect their personal development in their fields of law, as well as their hard work and contribution to the growth and development of the practice.
Keri is head of our residential conveyancing team. Not only her excellent legal knowledge but also her calm, proactive and "can do" approach during what can be an extremely stressful and frustrating time, is much appreciated by our clients, as well as others involved in the conveyancing process – estate agents, other solicitors, mortgage brokers and not to mention her own support team!
Lauren joined us as a newly qualified solicitor in 2019 and since then her confidence, legal skills and expertise have grown significantly. She is now a knowledgeable and competent private client solicitor. Like Keri, not only is this down to Lauren's enthusiasm for the law but also to her approach in providing clients with excellent service, which is to be admired. She is continually complimented in reviews for her efficiency, her clear and friendly advice and the empathetic way she deals with matters.
We are delighted to have Keri and Lauren as dedicated and committed solicitors with the practice and wish them both every success in their careers with Belcher Frost.
For more information on the services Keri and Lauren provide, please call 01243 377231 or visit our website:
ww.belcherfrost.co.uk