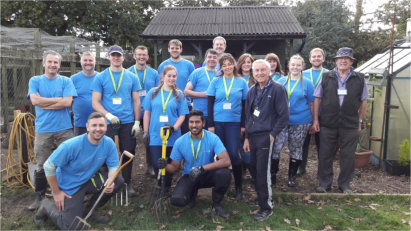 A beautiful sunny day made perfect conditions for a team of 16 employees from a large Havant-based business to spend the morning with Hayling Island Horticultural Society (H.I.H.S) at Hayling College, helping with their Growing Together project.
Lockheed Martin UK - Integrated Systems (LMUK IS) regularly takes part in volunteering activities organised by Community First, and today's task was to clear a pond, poly-tunnel and an allotment area ready for students to start planting and growing their own food.
The Growing Together project was set up by Bill Biggs and Ray Jones from H.I.H.S with the objective of crossing the intergenerational divide - enabling children and adults to learn and have fun together.
Lockheed Martin split into teams, two groups worked hard digging out the overgrown allotment and polytunnel that will enable the college to run activities learning basic gardening and teamwork skills. The other team cleared the overgrown pond area making this a more inviting environment for the students.
Bill Biggs from H.I.H.S was delighted, saying "The team from Lockheed Martin have worked non-stop and have made a brilliant difference in just one morning. The poly-tunnel looks amazing, the pond area has been transformed and the fruit and vegetable cage is unrecognisable. We can't thank Lockheed Martin enough and their help has been an inspiration to the students at Hayling College."
Melanie Coles, Head of Communications at Lockheed Martin in Havant said "a tremendous effort from our team today. When we heard about the Growing Together project at the college, we were keen to help to keep up the momentum. Working with some of the pupils and the team from Hayling Horticultural Society, we were able to prepare the ground for the next planting season and to ensure that the great work continues."
Gillian Jackman from Hayling College said "it's been good to have Lockheed Martin here to encourage the students to get involved in the project, now they will be able to grow together and encourage others to do the same."
Without the support of local businesses many charity and community groups would struggle. For more information about how you can get involved with the Employee Volunteering Scheme contact Rachel Taylor at rachel.taylor@cfirst.org.uk or telephone 0300 500 8085 Ext 9724