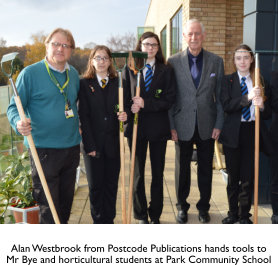 Park Community School students are undertaking Royal Horticultural Society horticultural qualifications, and specific tooling is necessary in order for them to complete the course. They are following a detailed syllabus and the course has been very well received by students.
The new Bulldog hoes and rakes purchased through a generous donation from Postcode Publications will be instrumental to their success.
Mr Bye, Horticulture Co-ordinator said that the tools will be invaluable to the success of our students. We look forward in anticipation to sampling the produce they grow.