Volunteers from Community First's 'Positive Pathways' project and Growing Together (a partnership between Hayling Horticultural Society and Hayling Schools) spent the morning helping prepare the grounds at Mill Rythe Junior School on Hayling Island to clear space for a new poly-tunnel to help schoolchildren plant and grow fruit, vegetables and flowers.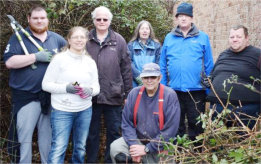 Positive Pathways is a Community First supported volunteering project helping those who have support needs or lack confidence to take part in team volunteering in the community, gaining a range of skills by carrying out activities such as befriending, gardening, conservation work and painting of community venues. Volunteers also build their social and communication skills by attending tailored training and working as part of a team.
Volunteers worked with Bill, Ray and Clive from Growing Together cutting back trees and brambles to clear a large area for the poly-tunnel.
Ina Allum, Positive Pathways Co-ordinator from Community First, said "the volunteers did a fantastic job, cutting back trees and brambles and clearing scrub, which will enable Growing Together to come in and remove the tree stumps ready for us to level the ground for the poly-tunnel. The Growing Together team are great fun and the volunteers enjoyed working with them".
Teacher Mike Darby who is heading the school garden project said "the Positive Pathways volunteers have really helped, it's great to see a project that helps so many people in different ways. Their partnership with the Growing Together project has benefited several schools on Hayling already, and we are looking forward to working with them in the future while we are establishing our new garden area".
Community First also operates an Employee Volunteering Scheme and are keen for more companies to take part in volunteering within their community. For more information, please contact Rachel Taylor on 0300 500 8085 or email: Rachel.taylor@cfirst.org.uk. To find out more about Positive Pathways contact Ina Allum on 023 9387 3808 or email: positivepathways@cfirst.org.uk