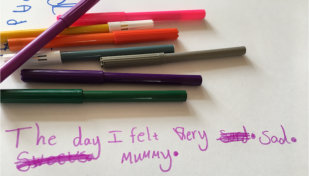 The mental health of young people is a growing concern amongst schools, both locally and nationally. Many teachers and parents are noticing a rise in anxiety, depression and other emotional issues. The Spring Arts and Heritage Centre and the Warblington Partnership Board, a group of schools and organisations from within the central Havant area, initiated the Poetry and Mental Health Project. The project aimed to highlight some of the issues young people face today and explore how we can begin to tackle them.
This unique project brought together students (ranging from infant through to secondary school ages) from seven local schools to work with Joseph Coelho, a fantastic published children's author and poet. Students explored emotions that young people today feel regularly and wrote poems to express their feelings. These poems were the building block used to create two short films produced by professional film-production company Millstream Productions.
The films include the poetry written by the young people, alongside animations bringing the words to life. The message of these powerful films is to encourage any young person who is dealing with negative emotions to speak to an adult they trust. These films will be used as a tool to discuss the topic of Mental Health in schools and the local community.
As a result of this project and talking about mental health, these young people are now mental health ambassadors within their schools and know how to help themselves and others.
Faith Davies, Participation Officer, at The Spring explains how the project started:
"The Spring has been supporting the Warblington Partnership Board's great work around Emotional and Mental Health. We, as an organisation, recognise that the Arts can be an effective way to explore difficult topics with children and young people so The Spring and Warblington Partnership Board felt that poetry would be a great tool to explore the topic. This project aimed to use the ideas and experiences of local children to create a relevant Mental Health message they could share with their peers and the wider community."
The films were premièred at a special private event at The Spring in May 2018 and can be viewed on the Spring's website http://thespring.co.uk/news/poemh-poetry-and-mental-health-schools-proj…