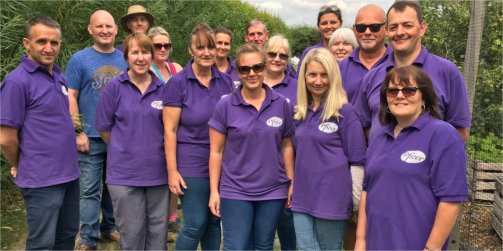 Tuppenny Barn, a charity based in Southbourne, got a helping hand from a group of volunteers from Pfizer, a large pharmaceutical company based in Havant.
Having spent a day at Tuppenny Barn back in March, Pfizer enjoyed their day so much that they agreed to a second day helping with the large task of fruit picking. The team of 16 volunteers spent the morning in the large fruit cage picking a bumper crop of raspberries, boysenberries, redcurrants, blackcurrants and jostaberries.
Tuppenny Barn's vision is to create a better future for our children through inspiring communities to learn about sustainable and organic food. The charity cultivates and harvests organic produce, using this to create learning experiences for all ages and to promote the benefits of growing, cooking and eating healthily. The project was set up 14 years ago by Maggie Haynes.
Katrina, a volunteer from Pfizer said, "What an incredible lady Maggie is to have a dream and to bring it to life at a time when our knowledge of organic food was almost non-existent, fast forward to the present what she has achieved shows that you can educate people.
What she is doing is inspirational."
Maggie Haynes from Tuppenny Barn said, "It's been a phenomenal fruit effort today from the Pfizer team, having picked over 50 kilos of fruit. It has been an amazing achievement. This will help us with our jam and preserve the production line to make delicious jams and chutney. It's great to see such enthusiasm."
Without the support of local businesses, many charity and community groups would struggle. For more information about how you can get involved with the Employee Volunteering Scheme, contact Rachel Taylor at rachel.taylor@cfirst.org.uk or telephone 01730 774057.