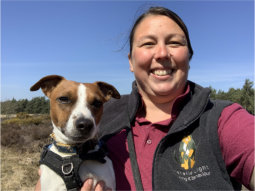 Top tips on how to make dog walks fun and interesting – while also helping to protect our beautiful countryside – are being shared by a leading canine behaviourist as part of a new regional initiative.
Dog expert Natalie Light and her Jack Russell "Fish" are the stars of a new series of informative films called "Love Dogs, Love Nature".
The opening film explains Natalie's passion for pooches and how her walks are a great time to bond with her dog and introduce playful elements – all while keeping her best friend under control and sticking to the paths.
Over the coming months, five bitesize 50-second top tips films will be released, with Natalie sharing advice on how to get a better recall, new games to make walks more fun, being spearheaded by the Southern Counties Canine Access Management Partnership (SCCAMP). It includes the South Downs National Park Authority, New Forest National Park Authority, Bird Aware Solent, Heathland Hounds, Dorset Dogs and Devon Love Dogs.
It builds on the South Downs National Park's successful Take The Lead campaign, which has been running for several years and encourages responsible dog walking with simple actions, such as keeping canines on leads around livestock and bagging and binning dog poo.
Working with the dog community, the National Park Authority launched a dog walking code to encourage responsible dog walking throughout the New Forest. Visit www.newforestnpa.gov.uk/things-to-do/walking/dog-walking/dog-walking-code/