Year 11 celebrate their time at Park


A buzz of real excitement filled the school on the Year 11 students last day as they made their way into their Leavers assembly, all eager to watch the 'Leavers of 2017' film that Mr Carter-Brazier had pulled together celebrating their five years at Park. Mr Cavanagh, Head of Year 11 thanked students for their superb efforts in recent exams and for the funny and poignant moments that they had provided over the years, many of which were reflected in the film.
Mr Anders, Headteacher praised the students for their maturity, which had developed particularly in the past twelve months when students rose to the challenges that their final year presented them, which included sitting the greatest number of exams Park students had ever sat. He finished by telling the students to enjoy the longest holiday they'll ever get and thanked them for very fond memories. Students then took part in the traditional balloon release.
In the evening students went on to enjoy a well-deserved Prom at Boathouse 7 in Portsmouth's Historic Dockyard. Beautiful gowns and debonair suits were the order of the evening - a great chance for teachers and students alike to celebrate their achievements!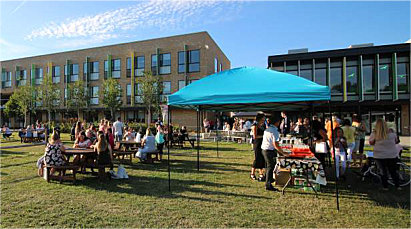 Park's new students week of transition and fun
Park welcomed Year 6 students for their Freshers Week and what a fun packed week they had! They met their mentors and new teachers. The first day was full of activities designed to get to know the other students in their mentor group as well as finding their way around the school and learning about life in secondary school.
During the week they all had the chance to complete a dry rowing challenge and the top 45 students went to Langstone Harbour to participate in the Oarsome rowing project. Parents were invited into school to meet staff and have a BBQ. It was also an opportunity to see a film showing what a great, if busy, week the future Park students had enjoyed. We were pleased to see so many smiling and happy faces at the end of the week and we look forward to working with them again in September.

MUNCH is our latest Much More Than Just a School project. MUNCH provides those students who would normally get Free School Meals during school term time, with a free meal and space to play during the holiday periods. It is open to ALL PRIMARY AND SECONDARY SCHOOLS IN LEIGH PARK.
During the Easter and May half term breaks lots of children and families came and enjoyed eating good food and meeting new people. Everyone is welcome, including Grans and Grandads. To enable us to keep MUNCH running we ask for a small donation towards the meal from those who can afford to do so.
MUNCH, which is based in our spacious Watering Hole restaurant, is open from Wednesday 26th July – Friday 1st September 2017 on weekdays between 12 – 1.30pm. We look forward to welcoming lots of new faces to Park during the summer holidays.
Our latest initiative, part of the MUNCH project, is the MUNCH community fridge located in the Dickinson Centre. This fridge is full of food and anyone in need can come and help themselves to any of the food it contains. We welcome donations of clearly labelled and dated food items for the community fridge.