Reflections & celebrations start off the new School Year with gusto...
African themed display at Victorious Festival


Mr Waterfield, Art Teacher from Park Community School put on an eye catching African themed display using art work from his GCSE Art groups at the Victorious Festival in Southsea, over the August bank holiday weekend.
Visiting families contributed to the amazing display by painting their own African mask and putting it on our Africa map.
Through kind donations, we also managed to raise £130 for The Grassroots Trust, the charity who Park Community School work closely with, to help make school trips to Tanzania possible.
Park students make the Final!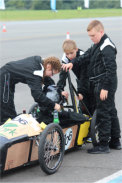 What an eventful day our students had at their recent Greenpower event. The day started with bright sunshine but ended with big gusts of wind, a damaged gazebo and torrential rain and the racing wasn't without incident either!
In the first race Park's 'Keep Up' car was spectacularly fast and was 'keeping up' with carbon fibre cars but sadly the batteries did not last and it came to a swift end.  Park's second car 'Team Spirit 2' made steady progress throughout the race and finished strong after 90 minutes' racing.
In the second race, 'Keep Up' again posted record times and led in its category but ultimately could not maintain its pace.  Unfortunately another car drove into the back of 'Keep Up' and completely buckled the back axle making it unsafe to drive. Thankfully our driver Amy came away with just a few bruises.
'Team Spirit 2'  fared better in the second race.  It proved to be super reliable and with the help of some amazing pit changes it kept a close second to 'Keep Up'  in its category.  It then overtook 'Keep Up' to finish a fantastic 9th overall (of 35 cars) but first in its category of car!
The Greenpower Team will be taking part in the Kit Car Final at Rockingham Motor Speedway on Saturday, 7 October.  Let's wish them the very best of luck.
Credit where credit is definitely due!


Park Community School would like to congratulate Communitas and PO9 Pioneers who were recognised for their work at the Love Britain & Ireland Awards. Communitas won 'Runners Up' in the Youth and Children's Work category and PO9 Pioneers were winners in the Building Community category.
Sara Barron, PO9 Pioneer commented "Congratulations should go to the Leigh Park community, especially all those who get involved in community events as individuals.  We would like to say a huge thank you also to those who partner us in our work too, especially Park Community School".
Beating the poverty crunch with MUNCH!


The Munch Project at Park Community School had fantastic attendance over the summer, providing free of charge 2 course meals for children attending Leigh Park Schools who are entitled to free school meals. Since the start of the Munch project in Easter 2017, we've served 1,988 meals to children from 34 schools!
Munch ensures that no child, irrespective of school or age goes hungry during the holidays. Our service also provides some structure through those times, and gives children a safe environment to come to. Munch will be back during the half term from Monday 23rd October to Friday 27th October for any children or parents to come, even Granddads and Grandmas are welcome!
We're extremely proud to be the home of the Munch project, which is only possible with the generosity of funders including Postcode Publications and Seaward Properties. PO9 Pioneers will be co-ordinating the day with the help of many other volunteers.