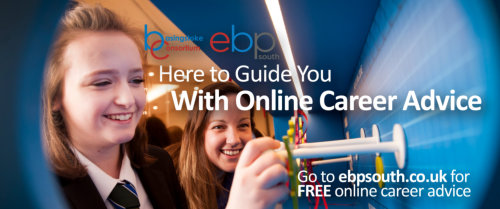 A series of careers videos created by EBP South have been hugely popular with young people. The videos have been created to support young people with their next steps after having their final year of school come to an abrupt end.
The YouTube videos provide career advice on a range of subjects from applying to colleges, apprenticeship applications, CV tips and much more.
EBP (Education Business Partnership) South in Hampshire was quick to adapt their business to create a hub of online support for young people following the Covid-19 outbreak.
The organisation has worked in schools across Hampshire providing career advice and connecting young people to the world of work for over 20 years.
Cath Longhurst, EBP South CEO said "During these uncertain times it has never been more important to ensure young people have support with their future.
Our primary focus is making sure young people, especially the year 11 leavers, can access information, advice and guidance which we have done by developing a hub of support for all young people in Hampshire.
I am proud of how the team of Career Practitioners have been able to adapt our resources so quickly with tailoring them to young peoples' needs. While written content is important we know that young people also need information in a format that they are used to using."
EBP South are now expanding their online support by working with businesses across Hampshire to create videos for young people that give them an insight into careers in their organisation. EBP South has built a framework for businesses to enable them to easily create the career insight videos.
As part of the hub of online resources EBP South are also offering one-to-one online support with their career practitioners, who have local knowledge of colleges and apprenticeships; as well as providing a range of online resources.
You can access all the resources at www.ebpsouth.co.uk
For more information
E. enquiries@ebpsouth.co.uk
w. www.ebpsouth.co.uk