Charity seeks crafty youngsters to get involved with a free project funded by The Big Lottery
In September, Making Space, a unique craft charity in Havant, launched a brand new project called A Space To Make: Youth. Funding from The Big Lottery was awarded to the charity to provide free after school creative sessions for 10-14 year old children.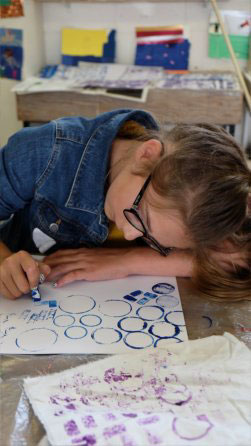 In a period of time when the arts are being cut from school curriculums, this project enables those with an artistic interest the opportunity to explore their creativity and make friends in a safe, local and friendly environment.
Current ASTM: Youth participant Niamh, 11 from Leigh Park, shares her thoughts on why she enjoys attending the sessions at Making Space; "I get to meet other children while having fun. I've learnt how to do many different styles of creative art and am enjoying every second of it."
The ASTM: Youth sessions take place fortnightly on Monday afternoons from 4.30pm-6pm. The sessions are free to attend and young people can just drop in, there's no need to book and all that's needed is parental contact details for health and safety purposes.
The funding from The Big Lottery has also provided the charity with a box of inspiring materials to help the creative juices flow… The sessions aren't taught but instead young people are supported and encouraged to create and follow their own creative projects using their imagination and own ideas and designs.
The sessions are supported by a local maker, and one of Making Space's young volunteers. Each session can accommodate up to twelve young people on a first come first served basis.
The project continues in 2019 launching on Monday 14 January and every other Monday onwards, including two school holiday special sessions on 22 February and 3 April.
If you know of a creative young person who you think would enjoy coming then direct them to the Making Space website - https://makingspace.org/astm-youth/ or get in contact with Making Space to find out more call: 023 9247 2491 or email: admin@makingpsace.org