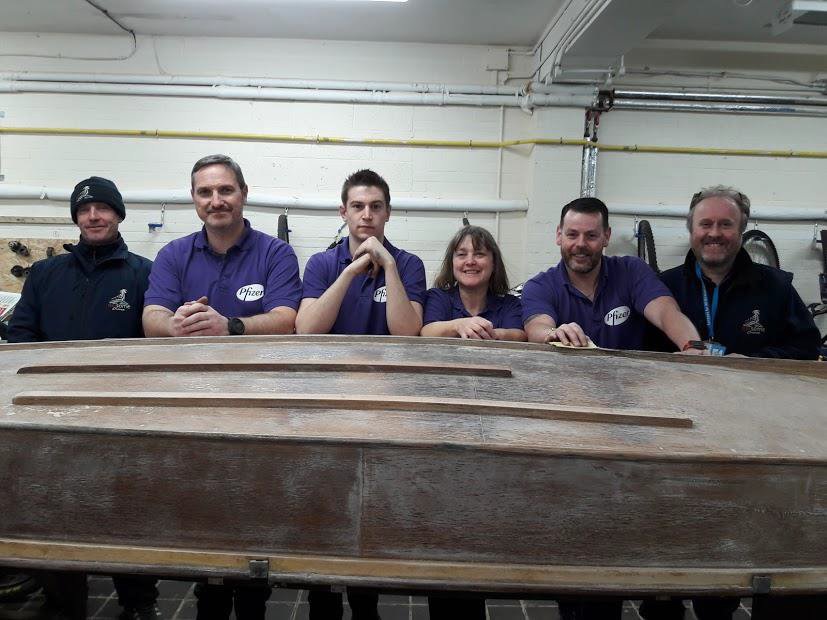 An interesting insight into Oarsome Chance was on the agenda for a group of employees from Pfizer who gave up their time to help the local charity help build equipment and prepare boat hulls to render them fit for the water.
Oarsome Chance is a unique charity with a base in Havant aiming to help young people re-engage with mainstream education and employability prospects.
In their workshop at the Apex Centre in Havant, they provide experiences such as building projects on coastal rowing boats with an aim to getting them out onto the open water. These activities are available to young people who for reasons of ability or circumstance would not otherwise have access to these facilities. The charity aims to encourage the use of the local coastal waters through the sports of sailing and rowing to create a 'pathway of opportunity' for disadvantaged 9-19 year olds to enhance their life skills and improve their route to employability.
Pfizer take part in a rolling program of volunteering events around the Havant area organised by Community First and have helped many charities and organisations. They agreed to help Oarsome Chance with various tasks in their workshop including sanding an old 2-person scull rowing boat that has been donated to the charity, building furniture and dismantling old bikes for the students to utilise the parts.
Mary-Anne a volunteer from Pfizer said, "It was an inspiring day and lovely to see people with a passion for helping others. I've been happy to give up my time to help in any way we can for local children and worthwhile projects in the community."
Stuart from Oarsome Chance was extremely grateful for Pfizer's support saying "The group from Pfizer were such lovely people, extremely helpful and ideal role models. They are a brilliant example of showing the numerous different pathways our children can take to achieve a career within a large organisation, we thank them for giving up their time for Oarsome Chance."
Without the support of local businesses many charity and community groups would struggle. For more information about how you can get involved with the employee volunteering scheme contact Rachel Taylor at Rachel.taylor@cfirst.org.uk or telephone 0300 500 8085.