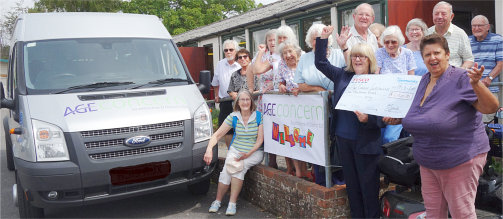 Just over a year ago Age Concern, Southbourne & District CIO embarked on a huge fund-raising project to replace their "old faithful" bus – which has now gone to two local youngsters to start its new adventure and be converted into a camper van.
In June 2018 members, volunteers and friends opened the "Bus Fund" with a cake and plant sale at the centre from which we raised £253.00 and the challenge was set to see if we could raise at least Twenty Thousand Pounds by the end of June 2019.
DID WE DO IT? YES
DID YOU – OUR LOCAL COMMUNITY HELP US DO IT? YES
The new bus will give our elderly folk who have limited mobility a lifeline and will reduce their loneliness and social isolation. We are now the proud owners of a larger, newer bus with fifteen standard seats or nine seats plus two wheelchair positions that are accessed from the rear tail lift. It will be used to transport our less mobile members to our weekly lunch club and for daily excursions to visit places of interest; pub lunch and even seaside fish & chips.
Everyone at Age Concern, Southbourne & District CIO would like to thank those in our local community who brought us: jumble; baked cakes; made jams and chutneys – the list goes on. To those who gave personal donations and to those who volunteered and gave their time whether it be at events or writing funding applications. We would also like to thank Tesco "Bags of Help" and Liz Jones who presented us with a cheque of £1,000. To Peter at PM Graphics for donating his time and services by sign writing our new logo.
This charity is run by a small team of dedicated volunteers supported financially by our local councils; businesses and community donations. It's been a tremendous challenge to source the funds to purchase the minibus as it will be to maintain it.
If you, your relatives or friends would like to come and volunteer for a few hours; make a donation or become a member then call us on telephone 07596 243949 or come and meet us at the Southbourne Age Concern Centre in New Road, Southbourne PO10 8JX on a Wednesday between 10am and 2pm.