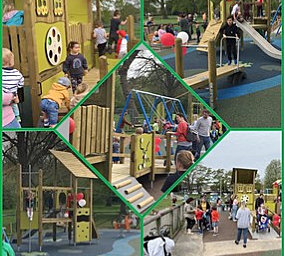 Excited children attended the opening of a brand new play area, along with their parents, in Waterlooville Recreation Ground, Jubilee Park, Jubilee Road,.
Following the opening there was laughter and smiles from children and their parents as they played on the colourful and vibrant equipment.
New kit such as a trim tail and stand-up see-saw are situated alongside the traditional favourites such as swings, slides and climbing frames.
Havant Borough Council, working in partnership with Waterlooville Action Group, held a survey in the summer 2021 to determine what local residents wanted to see installed and invited providers to tender their ideas.
The play area is ideal for children of all ages as it also includes a new inclusive toddler unit with a tunnel, nest swing, inclusive roundabout and interactive play panels – designs to improve children's physical and mental health whilst encouraging exploration, co-operation and imaginative play.
The funding for the equipment has come from a variety of sources. The Waterlooville Action Group secured funding from The National Lottery, power company Aquind, local gas engineers Aura and a Hampshire County Councillor Grant. Havant Borough Councils Community Infrastructure Levy (CIL) then matched funded the project, totalling £90,000.