The new central Havant location proved a hit for Alan Mak's third Community Groups and Older Persons Fair, with the expanded event seeing a record attendance.
More than one thousand residents came to the Meridian Centre and the Beacon, with around sixty exhibitors displaying information about local groups and organisations that support senior citizens.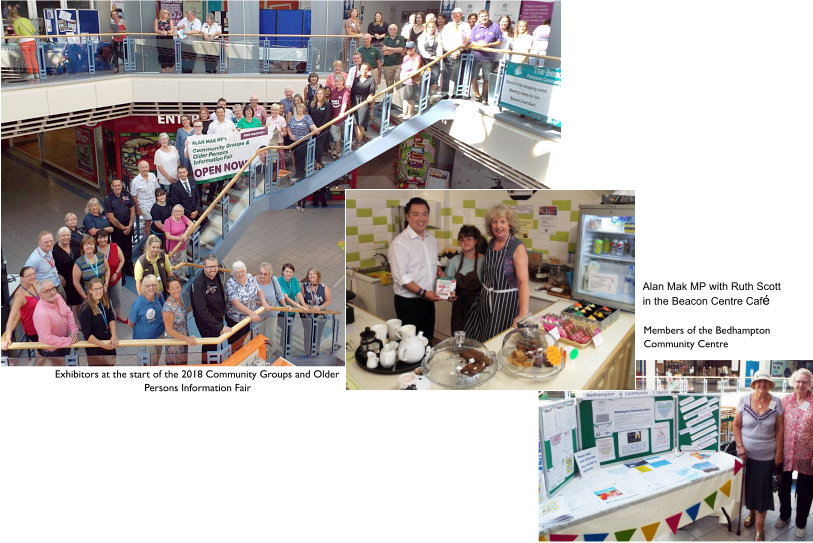 A number of residents also took the opportunity to become Dementia Friends, with sessions run by Dementia Friendly Hayling Island.
Havant MP Alan Mak described it as a "superb day", and thanked all of the residents and exhibitors for supporting the event.
He said: "I was delighted once again by the brilliant turnout, and for all of the support from residents who came to find out more about the excellent services on offer in the community. I'm committed to offering support for senior citizens and I hope that lots of people were able to join new clubs or learn about some of the services that are available.
"This is a popular fair that is now firmly becoming a popular annual event, and I'm already looking forward to bringing it back next year."
The exhibitors at the event included everything from community groups such as the Bedhampton Community Centre, Hayling Choir and Havant Borough Talking Newspaper to statutory bodies such Hampshire County Council, the NHS and Hampshire Police. In addition a number of charities that support older people were involved including Age UK, Diabetes UK and the Alzheimers Society.
Ruth Scott, Community Manager at the Beacon said "Being at the heart of Havant made this event very accessible and the number of information stands and attendees made it very worthwhile. Local support is vital, especially to the vulnerable in our community and this was a great way to access that".
Carolyn Popham from Dementia Friendly Hayling said: "We were delighted to be at Alan's Community Groups and Older Persons Information Fair again, raising awareness of dementia. It is great to have the opportunity to create new Dementia Friends in Havant."
For those unable to attend the event, the full contact details of all the exhibitors can be found at: alanmak.org.uk