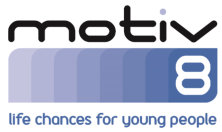 This year Motiv8 is celebrating it's 20th Birthday, that's 20 years of Motiv8 delivering Life Chances for Young People and their Families. We've seen a lot of changes locally and globally during this time, and have shared journeys with thousands of young people who have demonstrated amazing resilience, determination and character to achieve their full potential.
Young people like Connor* who Motiv8 first supported in 2009. Connor was struggling both at home and in school. His attendance at school was 10% and he had become violent and aggressive. At home there was family conflict and Connor would often be left to fend for himself. Connor was dealing with a range of emotions with no one to speak to; that is until he started to get involved with Motiv8. Connor began attending Motiv8's Alternative Education Programme and it soon became clear Connor could benefit from one to one support. He regularly met with a dedicated Motiv8 Support Worker who helped Connor build his confidence and self-esteem. He got involved in other Motiv8 Community activities, giving him something positive to do.
Connor's journey through adolescence was tough, and his story is unique to him. However, there are many young people like Connor who are facing a number of challenges, working through the journey from childhood to being an adult. Connor's story reminds us that with the right support young people and their families can make positive changes. Enclosed is our Annual Review 2018, also available at http://motiv8south.org.uk/, which contains details of achievements for the past 12 months including other individual success stories.
In this age of austerity with pressure on public services, the demise in youth provision, and the complexity of issues affecting young people, the need for Motiv8's services is greater than any time in our 20 year history. We are committed to maintaining a sustainable, accessible presence in the communities we serve across Portsmouth and Hampshire, but we need your help.
To mark our 20th Anniversary we are asking all our supporters to consider helping us in 3 specific ways:
Donate to our 20th anniversary Motiv8 Havant Centre Fund, raising £350,000. We are launching an ambitious capital project to create a dedicated permanent facility in Havant for young people and families. Investing in such facilities, at a time when public spaces are under increasing pressure with youth clubs and children's centres closing, ensures that over the long term our charitable resources can be focused on providing front line services and we remain embedded in the communities we serve.
Regular monthly giving to help us support more young people like Connor, it costs us £240 per month to provide targeted support to one young person (8 people giving £30 per month makes this possible).
Stay in touch through giving us consent to keep you updated with our e-newsletter**.
Back in 1998 when Motiv8 was founded, we relied on public funding for approximately 90% of our income, in 2018 public funding will support approximately half of what we do and this proportion has been decreasing year on year. Please help us to continue to meet the demand for Motiv8 services in the Community, in Education and support into Employment. We need your support like never before.
Connor felt Motiv8 was his "safe place" and years later when Connor experienced a significant bereavement it was Motiv8 he turned to for support. Helping Connor look at positive options for his future was an important part of the grieving process and with support he joined the Army and had a successful career for 5 years. Unfortunately due to injury Connor had to leave the Army and needed to consider next steps, Connor recalled his time with Motiv8 and decided he wanted to use his experiences to positively influence other young people. Today we are delighted that Connor has joined the Motiv8 team as a Support worker and is providing life chances for young people.
You will find a pull out form in the middle of the Annual Review and in the e-version, or visit Motiv8's VirginGiving page here to make a donation and also to sign up to continue to stay in touch. **New General Data Protection Regulations (GDPR) which come into force this month mean that without your consent we will not be able to stay in touch, so please do return the form as we value our partnership with you.