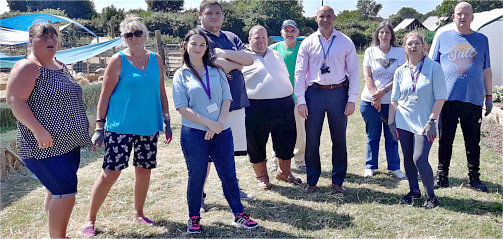 In June a team of Positive Pathways volunteers and staff attended an activity at Park Community School's smallholding. The smallholding was the latest venture for Community First's Positive Pathways volunteers. Positive Pathways is a Community First supported volunteering project helping those who have support needs or lack confidence to take part in team volunteering in the community, gaining a range of skills by carrying out activities such as befriending, gardening, conservation work and painting of community venues.
Volunteers also build their social and communication skills by attending tailored training and working as part of a team.
Nigel Pritchard, from Park Community School, met the team at the smallholding and gave them their tasks for the day. Beverley Palmer from Community First says, "We set to and started clearing paths of weeds, providing water for the animals and, after removing the weeds, for the vegetable beds too. How lucky we are to live in an area where we can stand and hear nothing apart from the birds (and the pigs!) and just breathe. A wonderful morning was had by all, it was hot work and the ground was hard but the results were worth it. We hope to go back another day to continue our work at the smallholding and build the relationship with Park Community School."
Beverley continues: "Our activities in the last few months have involved gardening at a local residential home along with befriending, otherwise known as 'chatting, answering quiz questions and eating wonderful cake'! We have also helped a local school with their
conservation area; cleared a section of the Hermitage Stream of Himalayan Balsam; helped to lay a path at a Girl Guides hut; worked with volunteers in Havant Gazebo Garden and had more cake, coffee and chat at Tweed Court."
Andrew Wiseman, Positive Pathways volunteer who helped out at the smallholding, said "I was impressed with how well organised and laid out the farm was. It was quite hot, we drank lots of water and I thoroughly enjoyed the day."
To find out more about Positive Pathways contact the team on 02393 873808, email positivepathways@cfirst.org.uk or visit www.cfirst.org.uk/positivepathways/