It all started when three local mums wanted to help promote local businesses!
Epic Events is a relatively new company, only launching earlier this year but they have just held their third successful event which was at the Meridian Shopping Centre in Havant.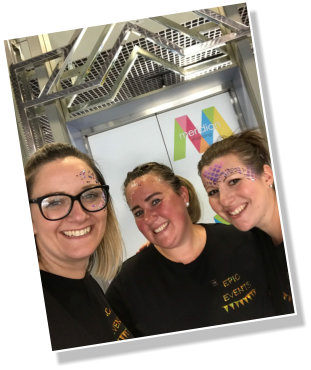 The three mums, Chloë, Hayley and Coleen pictured below, had each attended many fairs of their own to promote their FM World fragrance and beauty business when the idea was born, to start an events company of their own. The ladies already had a plethora of useful business contacts and some experience in the events field between them, so it was the start of a great new venture.
"We wanted to create events where we could promote what we do with FM World but also allow other local businesses to promote what they make, sell or do." Hayley Stephen.
The Epic Events Team aim to keep the stall costs very competitive and work closely with businesses in the local community to promote their events.
"When someone buys something from a local business, the owner does a happy dance!" Coleen Jackson
There are a variety of stalls at each of the events the Epic Events Team organise and they ensure there are not too many of the same thing, to allow the maximum exposure to the businesses who are involved.
"We have so many exciting things in the pipeline for the future, we are constantly buzzing with ideas and we are hoping to donate some money to charity from our future events. We want to keep our events very much in the community domain and ensure they are lots of fun for young and old."
Chloe Atkinson:
"The Epic Events team have just announced their showcase Christmas event 'Epic Events Does Christmas' which will be held at the Mountbatten Centre in Portsmouth, on Sunday 15th December. They have also secured Saturday 3rd August and Saturday 7th September for more Small Business Fairs at the Meridian Shopping Centre, and they are in talks about booking more dates. Please come along and support your local businesses!"
If you would be interested in having a stall at a future event, please get in touch with the Epic Events Team by emailing: epicevents66@gmail.com.
You can also follow them on Facebook @epiceventsfairs