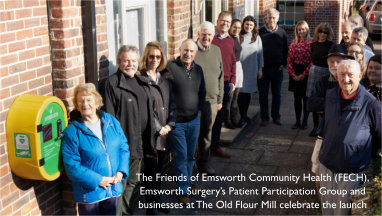 Following the footsteps of Postcode Publications who have purchased and instlled eighteen defibrillators throughout the PO7 to PO11 postcode districts, a new public access defibrillator with the potential to save lives has been installed at The Old Flour Mill in Queen Street, Emsworth.
This valuable life-saving piece of equipment is now in place and available for community use thanks to a grant from The Friends of Emsworth Community Health (FECH), support from Andrew Baker, owner of The Old Flour Mill and contributions from businesses located there.
"To increase someone's chances of survival a defibrillator needs to be found as quickly as possible. By working together we are really pleased that we have been able to add another defibrillator to protect the people of Emsworth and all the businesses at The Old Flour Mill" said project coordinator Sarah Lafosse.