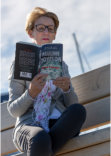 Hayling crime author Pauline Rowson's latest DI Andy Horton crime novel, number 14 in the series, DEAD PASSAGE published The latest in the popular Detective Inspector Andy Horton series by Hayling Island author, Pauline Rowson, DEAD PASSAGE, set in the local area, has been published worldwide in paperback and as an ebook. (18 October 2018).
DEAD PASSAGE, number fourteen in the DI Andy Horton series is set in Portsmouth, Gosport and the Isle of Wight with the flawed and rugged detective receiving a telephone call from the daughter of a dead Portsmouth politician, with an urgent request to meet her on the Wightlink ferry, the St Clare, because she has something to reveal about her father's death twelve years ago. When she doesn't show, Horton is at first inclined to think it was a hoax until more information comes to light and as new evidence is unearthed on Burrow Island in Portsmouth Harbour, more commonly known to local people as Rat Island, Horton believes the politician was murdered.
Pauline Rowson's Detective Inspector Andy Horton police procedural crime novels have been hailed in the USA and UK as "exemplary," "multi-layered" "cleverly plotted" and "full of twists and turns" "with an "especially good series hero, a likeable fellow with plenty of street smarts and the requisite personal baggage."
She is author of nineteen crime novels, fourteen featuring the Portsmouth detective, Inspector Andy Horton, three in the mystery thriller series featuring Art Marvik, former Royal Marine Commando now an undercover investigator for the UK's National Intelligence Marine Squad (NIMS) and two standalone thrillers, the award winning, In Cold Daylight and In For the Kill.
Her crime novels have been translated into several languages with the Inspector Andy Horton crimes novels optioned by top television production company, Lime Pictures, who are seeking to bring the enigmatic detective to the TV screens.
Pauline Rowson says, 'The local area is a great inspiration for me for the setting of my DI Andy Horton crime novels. There is always so much going on and so many different locations to choose from. For DEAD PASSAGE I was inspired by Rat Island in Portsmouth Harbour and was very grateful to Hampshire Marine Police Unit for taking me out on their launch to help with my research for that novel and to Solent Forts who gave me an in-depth exclusive tour of No Man's Fort which also features in the novel.'
DEAD PASSAGE cost £7.99 and is available in paperback and as an ebook from all good booksellers and on line.