Five star house-builders Barratt Homes and David Wilson Homes have launched a new community fund to strengthen its ties with the areas in which it is building new homes.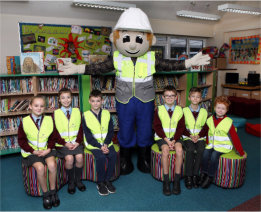 The Barratt and David Wilson Homes Community Fund will donate £1,000 each month to a charity or organisation which improves the quality of life for those living in the region.
Jon Green, managing director of Barratt Homes and David Wilson Homes Southampton said he was delighted to be launching the fund which will support charities in Hampshire, Dorset, the Isle of Wight and West Sussex.
"As the country's largest house-builder we are committed to creating a positive legacy," said Jon. "We want to lead the industry not just in the quality of the homes and developments we build but also in our work with charities and good causes throughout the UK."
Last year £1.2 million was donated across the company in the UK but this year the goal is to raise that figure considerably, through such work as the new Barratt David Wilson Homes Community Fund.
Barratt Homes and David Wilson Homes in Southampton also supports a number of other charities including Kids Out and last year raised more than £64,000 for the charity which provides disadvantaged children with great memories and days out. It also supports local schools with hi-vis clothing, Countess Mountbatten and the Romsey Relay Race.
Organisations can now apply for one of the monthly grants by emailing charity.southampton@barratthomes.co.uk with details of your charity or organisation and how the donation would benefit the local community and improve lives.
Pictured – Sponsorships include hi-vis clothing for local school children