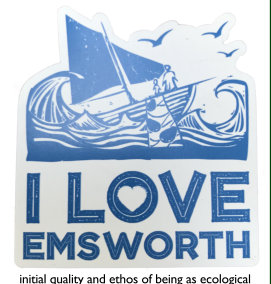 Many people like Emsworth but not many people do anything about it, until now.
Artist Samantha Millington-Ringwood decided that, in her opinion, Emsworth needed a nudge into the 21st Century and has launched a new brand of merchandise which looks destined to prove very popular and will help promote the town as a tourist destination.
Sam' explained "I travel quite extensively and have noted that, particularly in Europe, most communities have quite a range of material available which promotes where they live to residents, visitors, and people from the area who have moved away, not to mention those twinned with their community. Here in Emsworth we have little which actually promotes our town so I've worked with Fix8 Design to create an image and a range of quality promotional material which I hope everyone will appreciate. Initially I've produced a functional range of fridge-magnets, general cards, eco-friendly t-shirts and sweatshirts, shopping and make-up bags.
The initial response from businesses and public has been very encouraging and I have plans to extend the range maintaining the initial quality and ethos of being as ecological as possible, and using local suppliers. Emsworth stockists currently include Citrus Flowers, Vin, and Bookends, with more being added all the time. The website is proving very popular and products have already been shipped to Australia, and the USA. Scottish musician John McCusker bought a t-shirt to wear at his concert at Emsworth Baptist Church"