GET FIT this EASTER and try out local author Elsie O'Neill's Traditional Skipping Songs with Jessica & Grandma. It has 80+ multicultural songs, rhymes and chants from around the world, many from the British Isles.
It will last a lifetime – pass it on to your family.
Elsie explores the history behind most rhymes: some with gory stories and a few traditional nursery rhymes which are skipped as well as those written during times of war and plagues. Covid-19 gets a mention, too!
There are skipping hints and tips, advice on buying ropes and the origins of skipping supplemented with photographs of real children actually skipping and doing exercises to help you get started. Linked to that is a You Tube channel which features the children from 5 - 13 in action!
Do you know Enza from 1918 when the world suffered from the Spanish 'flu and how well she links to Covid-19?
I had a little bird
Her name was Enza
I opened up the window
And 'in-flew-Enza'!
Only £4.99 or read the e-book for free on Amazon if a Kindle member. www.amazon.co.uk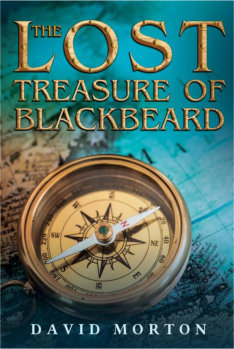 An ordinary family are making a new start in life. Dad has a new job in Portsmouth Dockyard, which means his wife and two sons have to endure an apprehensive relocation and have a change of friends and lifestyle to experience as they adapt to life in their new home, Portsmouth. Their adventures take us through a swashbuckling pirate journey of treasure maps and shipwrecks marooned on a desert island from the early 1700s. We witness the finale of Lord Nelson's illustrious life and the Battle of Trafalgar in 1805.
Take a deep breath, as the voyage really begins when the boys explore their new home and the old parts of the city of Portsmouth, which is steeped in maritime history. They befriend a knowledgeable old sea dog who helps them reach a fantastic conclusion that only dreams are made of...
The Author David Morton was born in Portsmouth in 1961 and has spent most of his life there. The son of a Royal Naval officer, David loves maritime history and in his spare time he visits the museums and researches online.
In 2008, David was struck down with Parkinson's Disease. There is no cure to date so it's an ongoing battle. Three of the disease symptoms or side effects of the drugs are insomnia, tremors and restless legs syndrome. Whilst pacing the house every night for three years, he decided to write the novel he always threatened to write; just like his father. Here it is, the first of many maybe!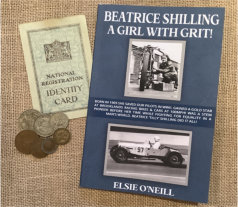 Local author Elsie O'Neill has written a book about local girl, Beatrice Shilling.
Beatrice Shilling A Girl With Grit! Beatrice, known as B, was born to a local butcher and his wife in Waterlooville, Hampshire on March 8th 1909 on what is now known as International Women's Day.
She was a STEM (science, technology, engineering and maths) pioneer before the term was known. B broke all conventions: racing bikes and cars as well devising the RAE restrictor to prevent fuel problems in WWII planes.
One of only three females to gain a Brooklands Gold Star for her racing prowess, she was a strong woman in history. B loved Nortons!
The book is narrated by Jessica in a chatty manner. It is not heavy on the telling of B's history from childhood to beyond her OBE for war work. However, it still provides great information about her battle for equality, her love life, her wicked sense of humour and how she defied convention to succeed in a man's world.
Ideally written for Tweens and Teens to adults – it is the only one of its kind! Our youngsters need encouraged to think carefully about their futures, especially in a STEM world of science, technology, engineering and maths. This sets the scene beautifully for further thought and discussion.
The book has a detailed glossary, bibliography and stunning photographs, many supplied by Beatrice's family.
Jessica also loves bikes; has a sheer determination to succeed against all odds in everything she does and admires Beatrice greatly.
"A well-researched record telling how one young girl was determined to follow her dream and succeed in a male dominated world. An encouragement for all girls so inclined to pursue a STEM career."
David Woodford, Beatrice's Nephew 18.02.2021
Only £5.99 or read the e-book for free on Amazon if a Kindle member. www.amazon.co.uk