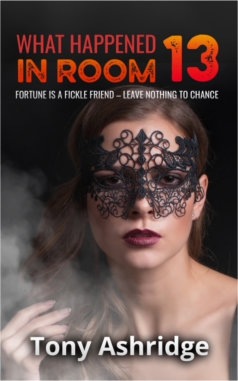 A story based on a real life mystery from the 1970s
It all started with that grisly crime 500 years earlier …
Bob Bennett had never been superstitious: if there were such things as ghosts, he had never had any problems with them at Crawthorne Hall. As for Penny, she did believe in the supernatural world and had noticed a pattern in the goings-on in Room 13. It seemed to her that bad people who stayed in the room often ended-up with some misadventure.
She remembered one disgruntled guest who had been consistently rude to staff – on the way home on a foggy morning his car had veered-off the road into a tree. A local newspaper report had claimed that, on his way to hospital he kept repeating over and over again that he'd looked in his mirror and seen a veiled woman with a baby sitting on the back seat: he claimed that she'd tapped him on the shoulder just before the accident.
On the other hand, there were numerous stories of other guests who had enjoyed happy stays in the infamous room.
One well-known novelist who had deliberately asked to stay in Room 13 had been quite happy finishing-off his latest book – a spine-tingling thriller. It had rapidly become a best seller.
In her mind, Penny was convinced that good things as well as bad occurred in Room 13. However, whether it was at Crawthorne Hall or elsewhere on their travels, she had noticed something slightly uncanny about Bob: he seemed to be around when strange, inexplicable things occurred. Sometimes she wondered whether he was a kind of conduit, unknowingly passing-on the vibes, whether for good or for bad. She'd never mentioned it as he'd have told her she was going mad.
SO, WHAT HAPPENED IN ROOM 13?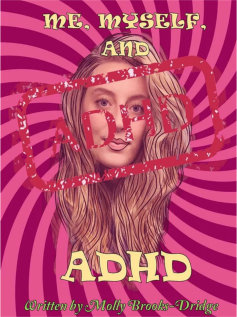 Molly Brooks-Dridge a local girl tells her story through the education system in Havant
So here's the list of who needs to read this book, EVERYONE!!!
Apart from the fact that this is an amazing achievement for someone with ADHD, it is also entertaining and 3 ADHD children later I was still coming across bits I didn't know. Plus we are giving away a Me, Myself, and ADHD raising awareness silicone wrist band with the first 20 pre-orders ... And from here on in for every book sold we will be giving £1.00 to the charity ADHD Action...